Ted Baker Suit
If you had read my Love for Ted Baker or indeed my 2020 motivation and goals posts you would have known that on the lists of "wants" was a Ted Baker suit. I've wanted one for a long time, but it's never quite been the right time to get one. I've either been really aware that I'm perhaps carrying a bit more weight than I've wanted, and wanted to lose weight before buying, or i've not liked the style of the ones on offer.
However we went out shopping after the clothing store lock down was lifted. I wasn't after anything particular or indeed we didn't go shopping for the suit, however we couldn't not pop into the Cambridge Ted Baker store could we!
Once there I found that they not only had a sale on (always a dangerous thing!) they also had a range of suits in the sale as well!
I found the blue suit that I was looking for! This was both the style and the pattern that I loved and really wanted to find and until now I hadn't managed it.
Purchasing
Although the stores were open sadly the changing rooms were out of action. Fine for the jacket - but not the trousers, and actually the sizes on offer in the store were not what I was looking for.
A quick look on line in the store told me we were in luck! We got home and I was straight on the Ted Baker website and ordering the suit!
A few days later and in the stylish Ted Baker way the box containing the suit turned up. I've commented before how much I love the Ted Baker packaging and how the goods are presented (both online and also in store) but it makes the sense of anticipation even more exciting.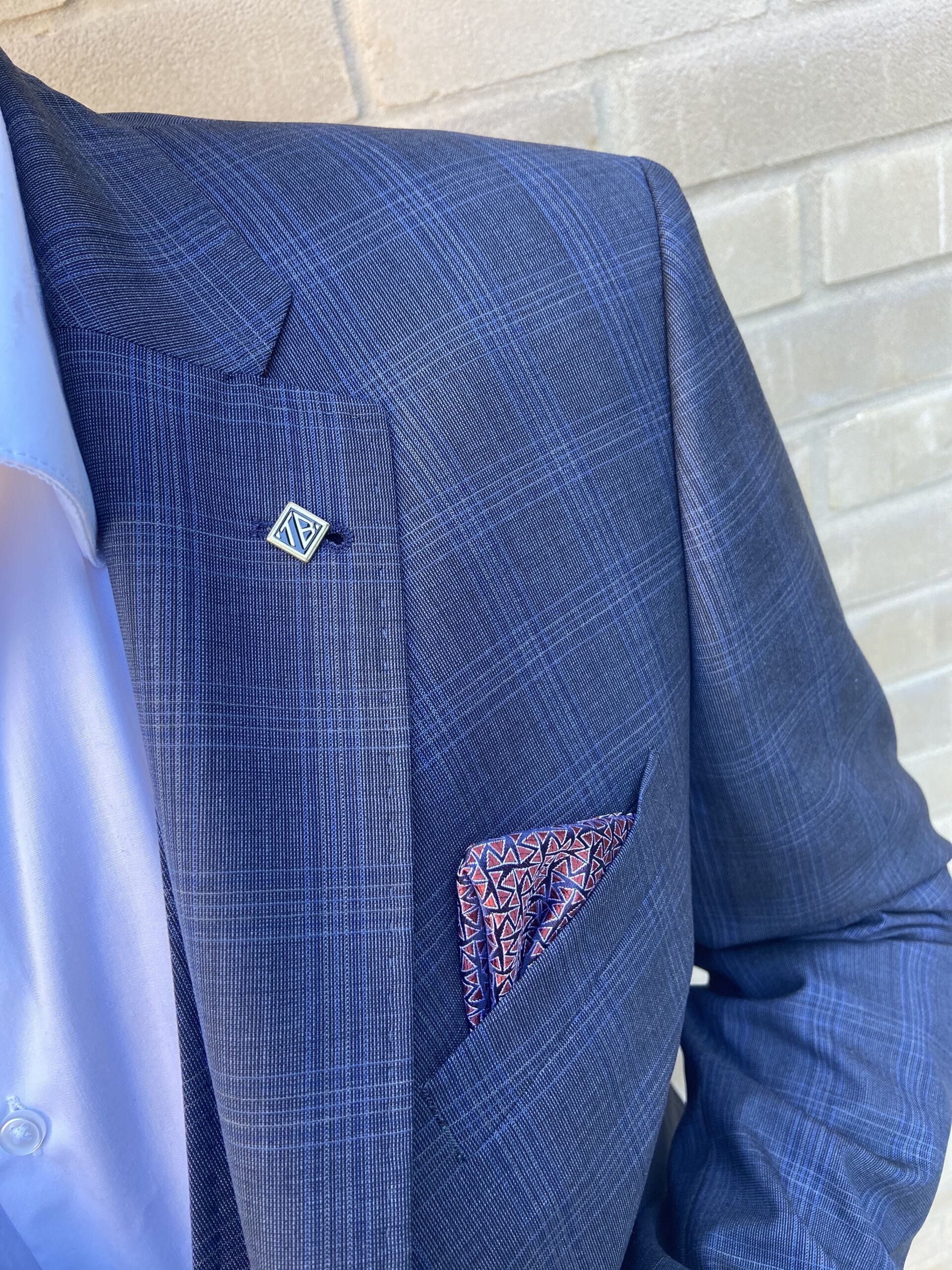 Trying On
I tried the Ted Baker Suit on and everything fitted perfectly. After losing quite a bit of weight during lockdown (I know - most people's weight has gone up!) it was a great feeling getting into the suit and it just feeling right.
I was so pleased with how it looked and felt on. I've got other more "high street" brands of suits in the cupboard at home and although they are great for everyday, there is something special about putting this on. It makes me feel that little bit taller, little bit more confident and just well yeah you get it. Just great!
The details on the jacket especially are great. From the patterned lining to the little TB badge - it's those small touches that make this a really lovely suit.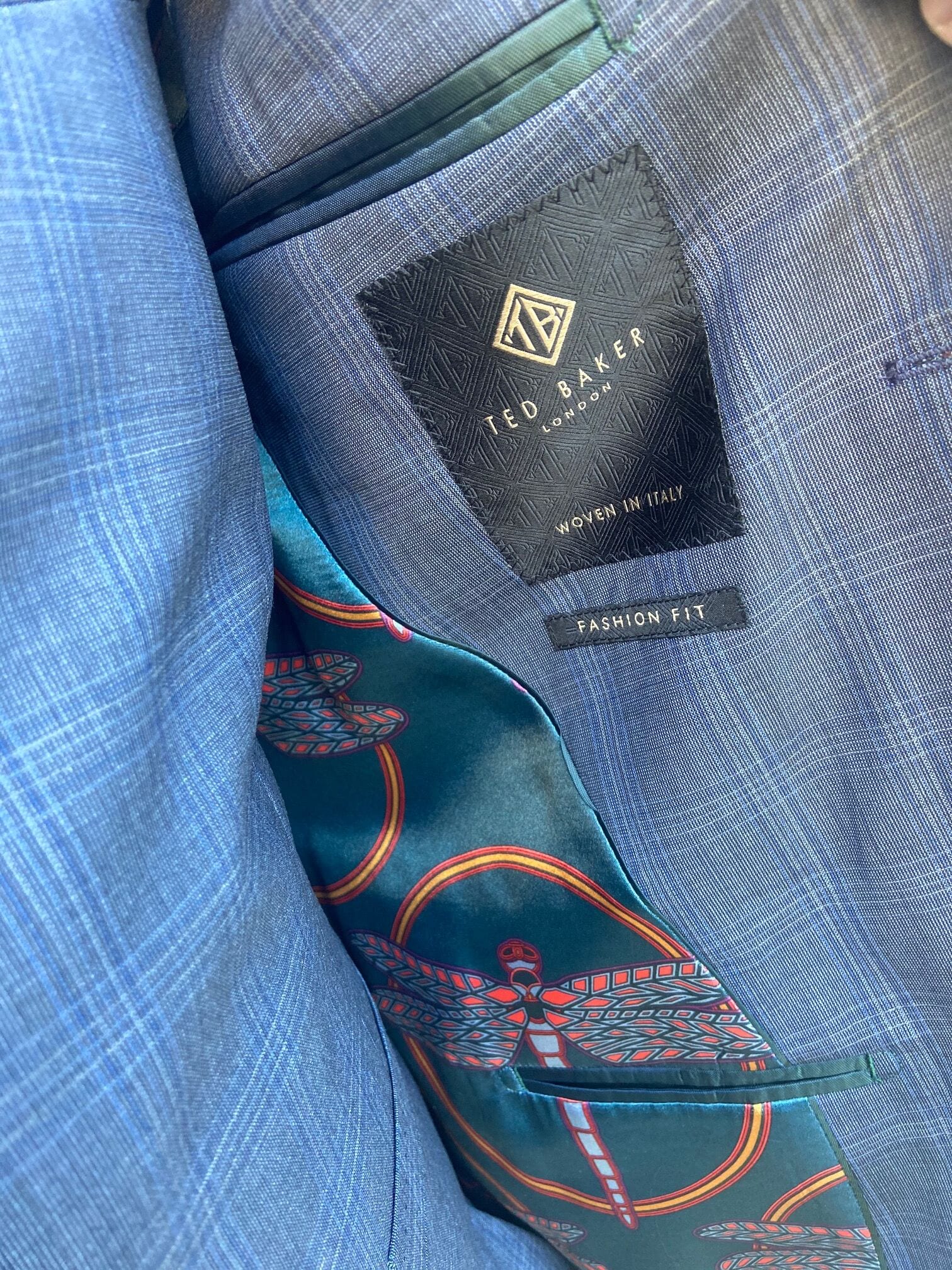 The Suit
There were so many different options to chose from on the website - but I'm really pleased that I went with the one I did. The pattern and the fit are just great. It's also the sort of suit for multiple occasions. Friends wedding - Tick! Important work meetings - Tick! Nice dinner out - Tick! I went for the full on 3 piece version as I like the option of having a waistcoat. However i'll probably wear it just as often as a 2 piece as I will a 3.
The thing I like is that's also a really modern cut but at the same time also classic enough to hold the test of time. Nothing worse than buying a suit that after a couple of years goes out of fashion and you can't wear it! I think this one will do me proud for a long long time.
I've paired it here with a white shirt - but plenty of different options are possible For the photos's i've also paired it with my Ted Baker bag. I've mentioned this bag in my love for Ted Baker post but it's great to see the combination of these together here.
I can't wait till I can get back in the way of meetings and travelling using the suit and the bag together!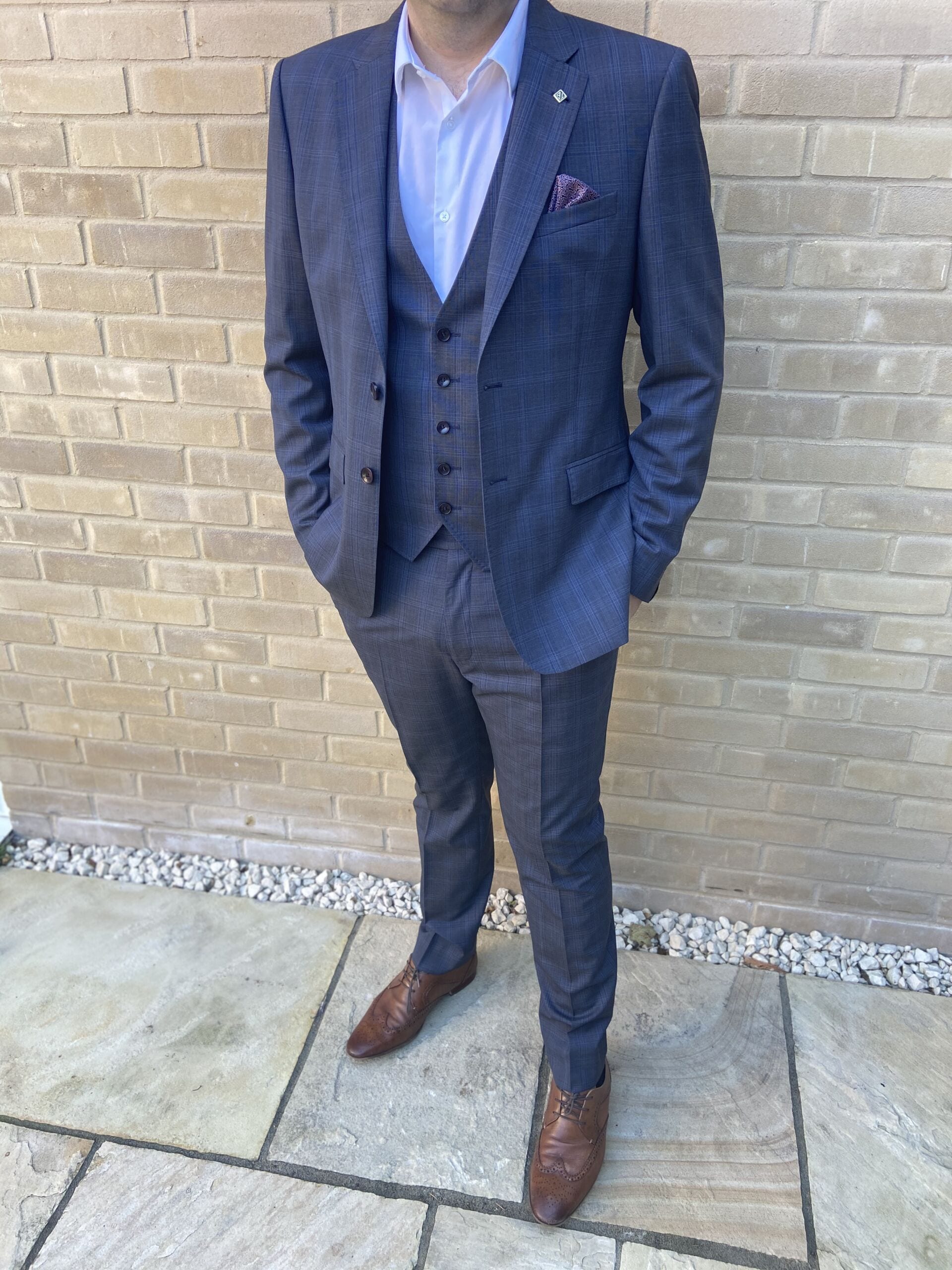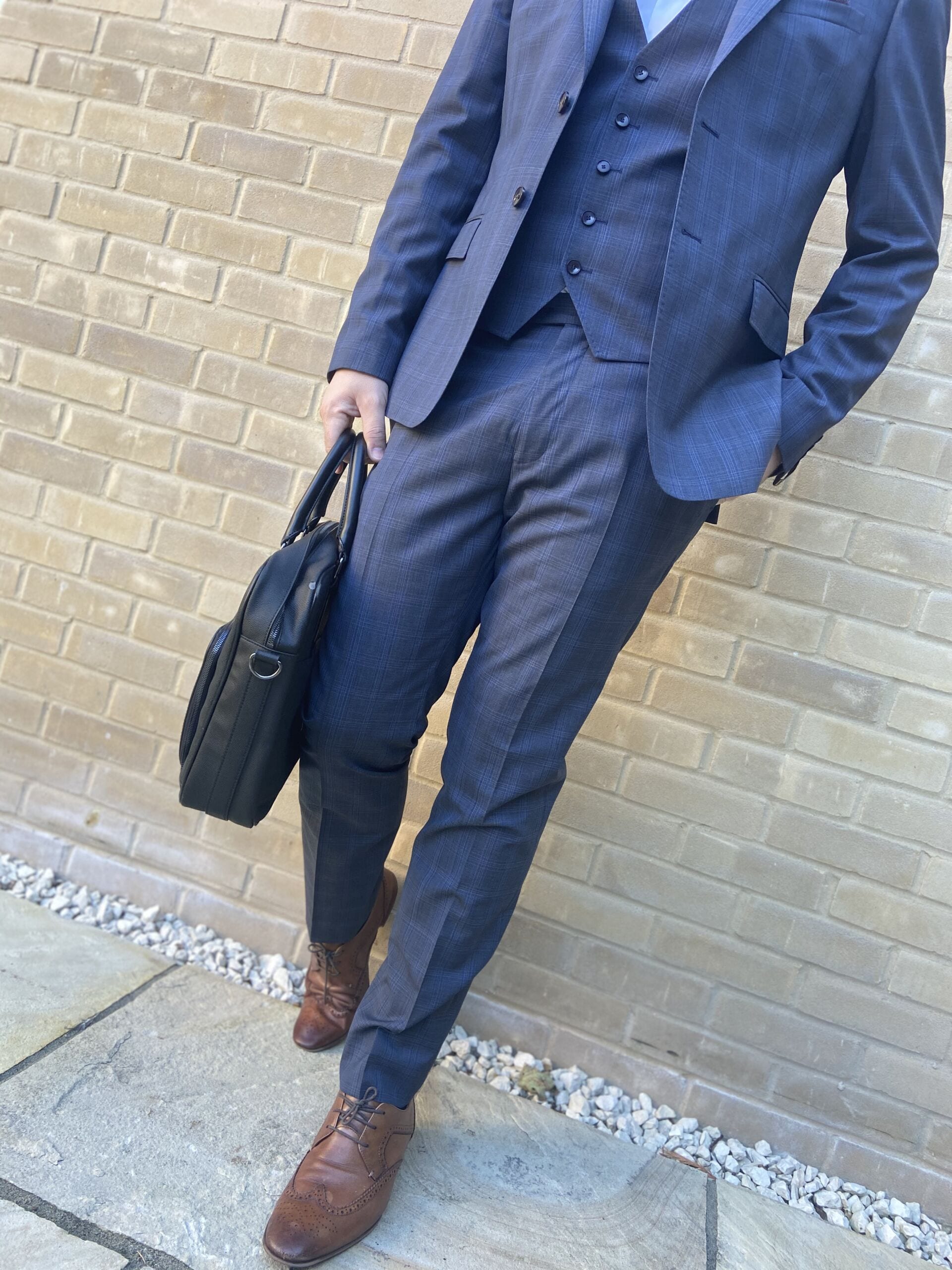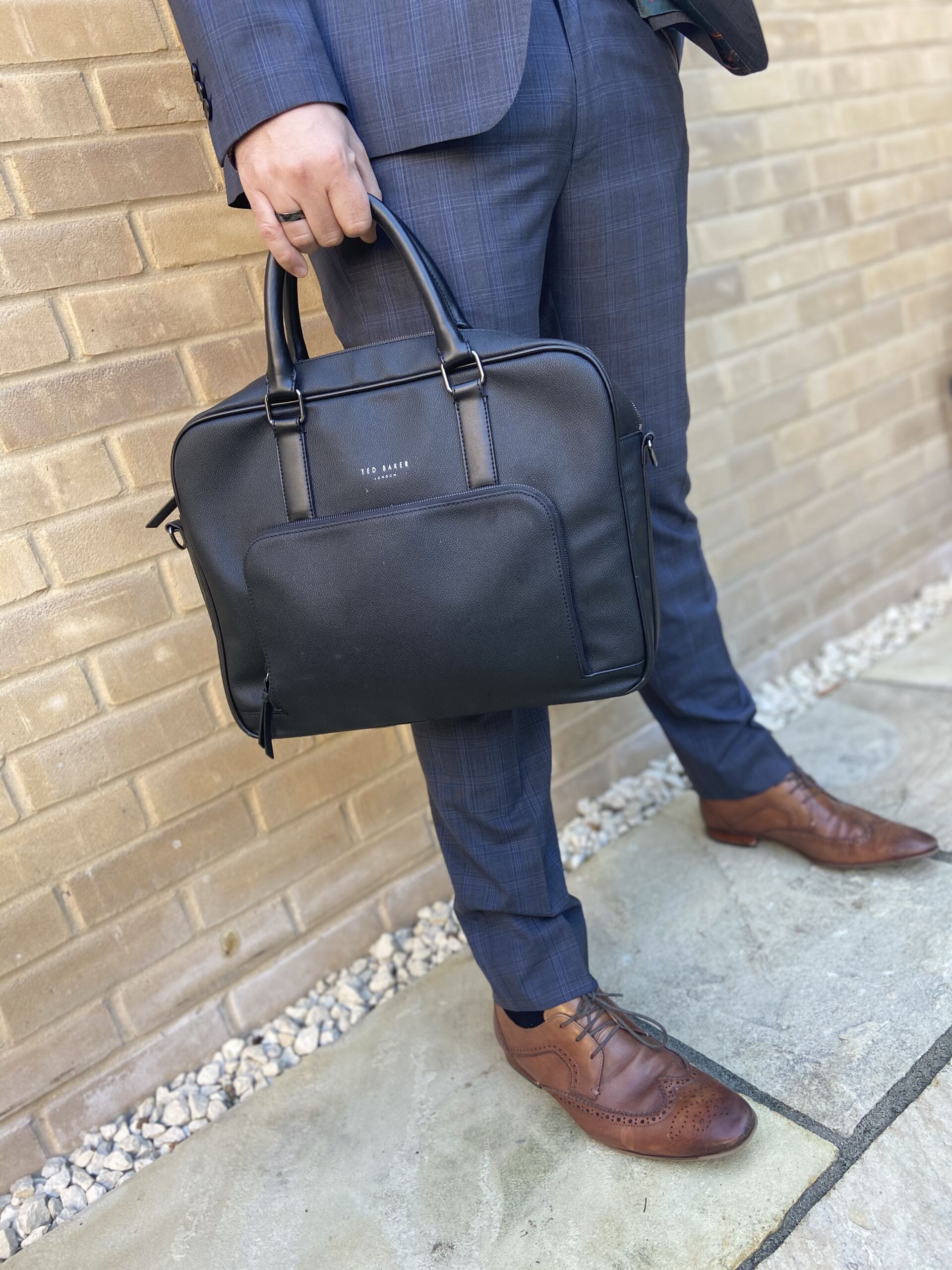 Conclusion
It's another of the boxes ticked for the 2020 goals list. I'm sadly not going to tick all of them off due to COVID and the changes in our circumstances. However I'm really pleased to have done this one now!
I'll be keeping my eyes pealed on Ted Baker for more of these excellent outfits!
Do you like the suit? Did I make a good choice with it?
Ben