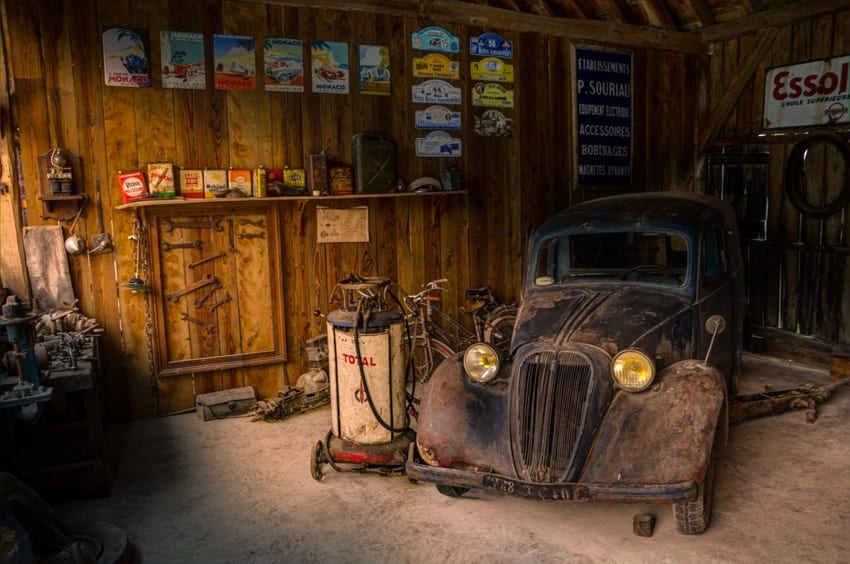 So I wrote a post about a month ago about what cars would be in my dream garage. You can read that post here. I had a number of people message me and say that I should do a post on my dream garage but with a upper price limit of only £10,000. Whilst these perhaps might not be the dream dream garage cars it's also perhaps more realistic and achievable garage. In pulling this list together I've found cars on Auto Trader website up to the value of £10,000. I fully understand that this is time sensitive and you are perhaps reading this and you wouldn't be able to find the same sort of car for the same price but I had to base it on something! Do you agree on my choices that I've made!?
1. Porsche Boxster 2008 (57 reg) 2.7 987 Sport Edition 2dr
As I said in the first post Porsche as a brand is growing on me. Frankly for any dream garage you've got to look at something that's fun to drive and something that's exciting to look at. The Porsche is that with the convertible aspect. Plus of course you've got rear wheel drive, a great engine (although this is the 2.7L rather than the slightly more punchy 3.4L) and that Porsche badge.
The one that I found was listed at £9,000 and had done 88,000 miles.
The only problem on these sort of Porsches is that they can be REALLY expensive to run. Parts and of course labour are going to be seriously costly if something goes wrong. So although the headline price is low - the actual running costs are not to be ignored!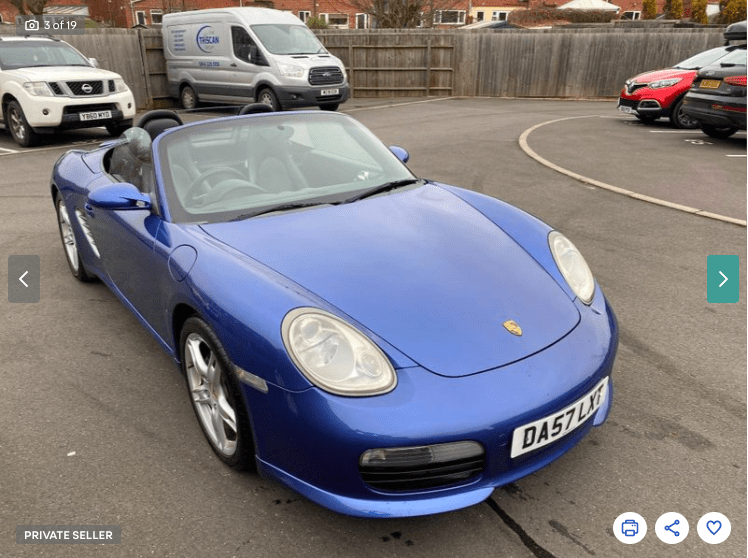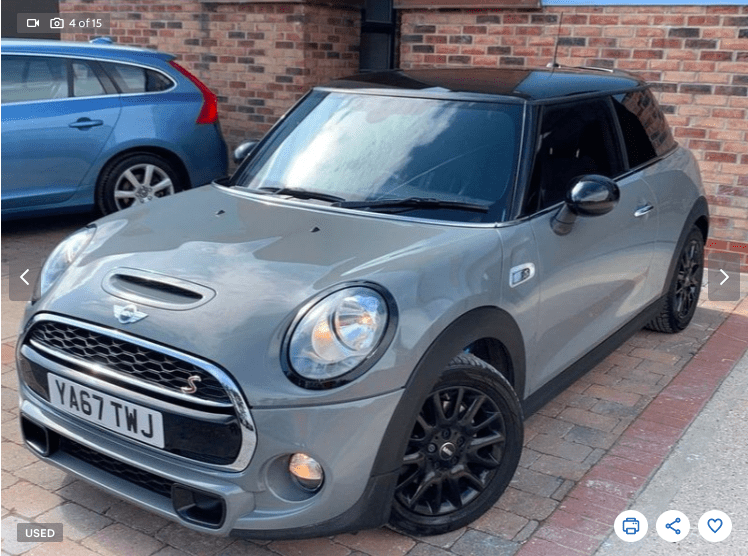 2. MINI Hatch Cooper 2017 (67 reg) 2.0L COOPER S 3d 189 BHP CAT S
In my early 20's I worked on show which took place at the Mini Factory in Oxford. As one of the "perks" of the job I was given a Mini to drive around in for a couple of weeks. From that point on I've always loved the car. Whilst it's not the same as the original Mini the cars are just great fun. I've found a 2017 2.0L version which gives a bit more punch and speed for £5 less than £10,000. There are of course plenty of cheaper options out there of both older and less highly spec'ed but the 2.0L is going to have a lot of fun in it!
The car handles just like a go kart. Point and it goes. With a low centre of gravity you'll have great fun in it! At 189BHP it's got more than my Golf and it's lighter!
More information can be found on the Mini here.
3. Mercedes-Benz Clk Class 2004 (54 reg) CLK55 AMG CLK 55 AMG 5.4 2dr
This a supercar bargain in the shape of the CLK 55 AMG of the 2002- 06 range. Being AMG, that's a hand-assembled V8, of course. On the plaque affixed to the rocker cover is scrawled the engine builder's signature. And this is in a car that's not £50k plus. This is a sub £10k car!
Still, if you've ever driven a 55, you can understand why owners hold these people in such high regard. Tales of electronics problems and body corrosion are there, but there are few complaints about a 55's engine.
Despite its supercar performance, the 55 is a discreet and good looking motor. Sitting on modest 18in wheels, a subtle bootlid spoiler and undersized twin tailpipes. The equivalent BMW M3 is shoutier (and more of a hooligan to drive) but it's the CLK's discretion that draws out buyers today.
I found this one for £5 less than £10k. Like the Mini above there are cheaper ones and slightly older ones. Don't though go for a 2000 or 2001 one as that has the 340BHP rather than the 360 BHP.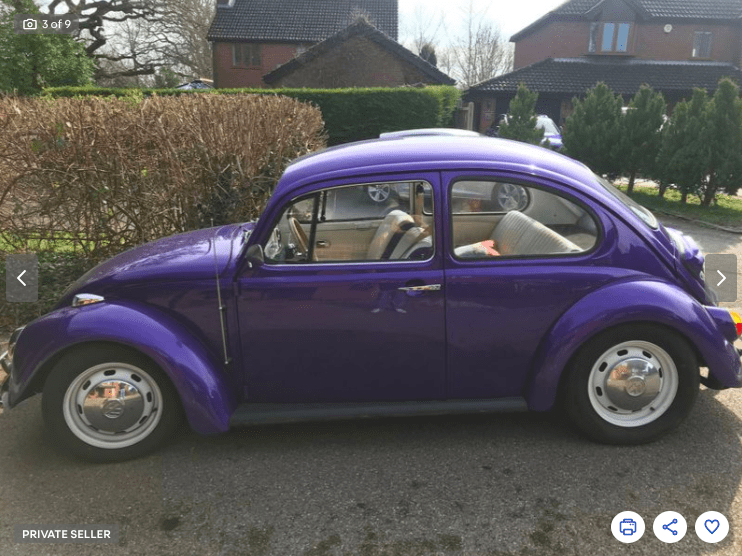 4. Volkswagen Beetle 1973 (L reg)
If you are talking classics. Things don't get more classic than an original Beetle. We're not talking the modern remake (although I do like what VW did with it) we're talking the original air cooled classic. In the end VW made 21million of them and unlike many cars like the Ford Escort or Toyota Corolla of which there have been many versions the Beetle really didn't change at all.
My first knowledge of the Beetle came from the Herbie film franchise of the 60's. Seeing this little car take on more powerful cars and all the silly things that they got up with it gave it a soft spot in my eyes.
The engine is highly distinctive in it's sound of course, but it's also from a design pre the 2nd world war which when you think about it is mad! Over the years the car has gone through many peaks and troughs but now it's definitely a collectors item. When I went looking for one for this list I was shocked how expensive they were! I found a few tattier options at around the £5k mark but this one was available for £9k and was very much a ready "to go" version.
5. Alfa Romeo Spider 2008 (08 reg) Jts Limited Edition 2.2 2dr
Jeremy Clarkson says you aren't a true petrol head unless you've owned an Alfa. So the Alfa makes the list! Despite this Spider's age, it still looks thoroughly modern. While it shares most of its styling with the Alfa Brera coupe, the Spider is a little shorter and the flat rear deck and rollover hoops give it its own personality.
The Spider is another example of how the company's rich heritage and distinctive shield grille can be brought bang up to date in a 12 year old car. This caries on to the interior with the Alfa badge being embossed into the headrests of the gorgeous leather seats (where fitted) and there is much more creative use of colour than in the Alfa's sombre rivals. The instruments are all angled towards the driver and though the switchgear is ageing, it's laid out logically and easy to use. Quality is good, as befits the price tag.
I've taken the spider for it's looks and it's name - not based especially on how it drives. Lets just say that the car looks better than driving it. It's also an Alfa so it's bound to break down at some point. However for £6495 an convertible Alfa on the drive - what is there to complain about?!
6. BMW Alpina D3 2007 (57 reg) 2.0 4dr
I had a 3 series for 3 years and still to this day I swear it's the best car I've ever had. The handling, the styling and the practicality did really make it the ultimate driving machine (as BMW like to call it). Alpina is the specialist BMW tuning team. They take your standard BMW and basically make it better, quicker, angrier and give it all sorts of toys as well.
This one apparently is one of 358 UK RHD BMW D3 Saloons. Although it's got a red leather interior (not my choice) it really does look the dog's whotsits. The Alpina wheels just set it off! With all Alpina models they thrown the "extras" book at it and this one is no exception.
The 3 Series is a great car to drive from the off - so I'm sure this Alpina will be no exception to this rule. It's also a whole lot more practical to be in than some of the other cars on this list....This one had done 69,000 miles and was for sale for £8990.
Alpina information
7. Austin Mini 1989 (G reg) Mayfair 1.0
So another car that's inspired by a movie for me, and also a car that appears twice on the list! For them to share the same name though is purely for marketing. The modern Mini is far from Mini! I love the film the Italian Job (the original not the awful modern version) and the undoubted star of the show is those 3 little cars.
Although I'm 6ft 3 - I think squeezing myself into the little mini would be great fun. I've ridden in a few and although they are oh so basic they were a great little car of their time and were so iconic in the 60's and 70's. The car did evolve over a number of years an the specification and engines got better over time.
I've picked a very much later model here and older and more classic versions do go for more money this one is a clean and tidy example. Large folder full of service history, invoices and receipts dating back to 1989. 140k miles and £5500. I was trying to get the balance though between old and new and also comfort!
What a fun little car!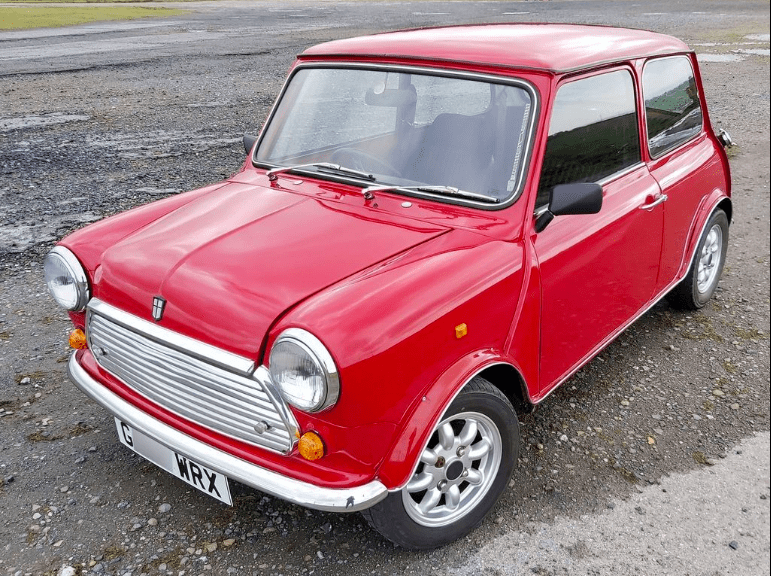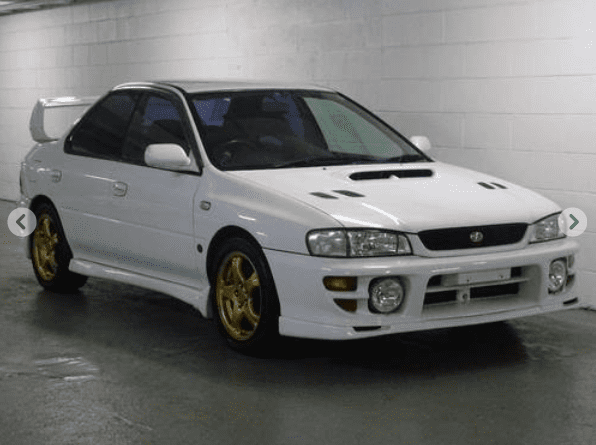 8. 2000 SUBARU IMPREZA 2.0 WRX STI 6 VERSION 6 RED TOP 280 BHP 4DR
Ok here's a car that made both lists and I won't shy away from that fact. No it's not lazyness - it's just that I want one! Whilst on the other list I've gone for the full Prodrive influenced P1 mu budget on the sub £10k garage doesn't stretch to that much.
I've found here on Auto Trader an imported one for £7k with 86,000 miles on the clock. It's highly specified as well with Air Bags, Power Steering, Electric Windows, Electric Mirrors, Central Locking, Climate Control, Air Conditioning, Factory Fitted Seude Sport Seats, Strut Brace, Kenwood CD Player, GREDDY Boost Gauge, Hi-Level Boot Spoiler, 16" Gold Alloy Wheels, Rear Privacy Glass to name a few.
I've explained in the P1 post my reasonings for the Impreza and that doesn't change here. Whilst this one isn't the full on version it's still a fire spitting 280 BHP version and you are still going to have a LOT of fun it it plus you'll rattle grandma's dentures out with the noise it makes at the same time....
Impreza information
9. MG MGB 1973 (L reg) 1.8 Roadster 2dr
Ok so there aren't many what people would call "classic cars" on this list. It's not a personal thing against them but I've just not really been a fan of the "classic". As I said in my other post it's not really something that I've aspired to own or there are cars which tick my box. The MGB might be a slight exception this rule.
You can't beat a 2 seater British made and designed convertible sports car can you? And that's the reason it's made this list. No ties to a film, no ties to having owned one and no real other strong reason. However I think they are a good looking car, and I can just imagine driving one down country lanes in the summer.
Is it as fast or wild as other cars on this list? No not at all - but this car is now MOT and Road Tax Exempt too. The car went through an extensive rebuild in 2006. For a small price of £7495 to own a classic car that would still turn some heads it's great value!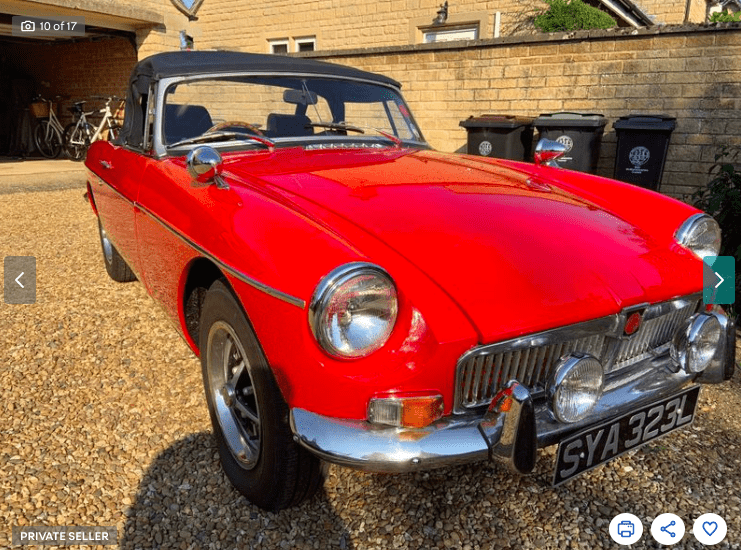 10. 1993 CATERHAM SEVEN
Ok this one "slightly" cheats. I found this one with a guide price of £10k - £12k but to ring and talk about it. Whilst possibly this excludes it from the list it's also such a good car I couldn't not put it in.
I wish that I had the skills to build myself a "kit car" however I'm just sadly not that mechanically minded... The Caterham though is the ideal kit car and also frankly a bonkers car to have in any garage. The car is based on the Lotus Seven, a lightweight sports car sold in kit and factory-built form by Lotus Cars, from 1957 to 1972. After Lotus ended production of the Lotus Seven, Caterham bought the rights to the design, and today make both kits and fully assembled cars.
With a super light chassis, a tuned and powerful engine this car is about as much fun as you can get for £10k. The power to weight ratio gives it such an edge, add to the fact that you are sitting about 3 inches off the ground gives the impression that you are going oh so faster. Yes you need to probably wear goggles, and wrap up very warm but that's not the point for this car. It's a car to have fun in - and without question you will. The only problem? I don't know I would squeeze my legs in it....
Dream Garage
So that's my thoughts on the sub 10k garage. Every petrol head will have something different of that I'm sure? Do you agree or do you disagree? Why don't you drop me a comment in the comments box below on what would be in your dream garage?!