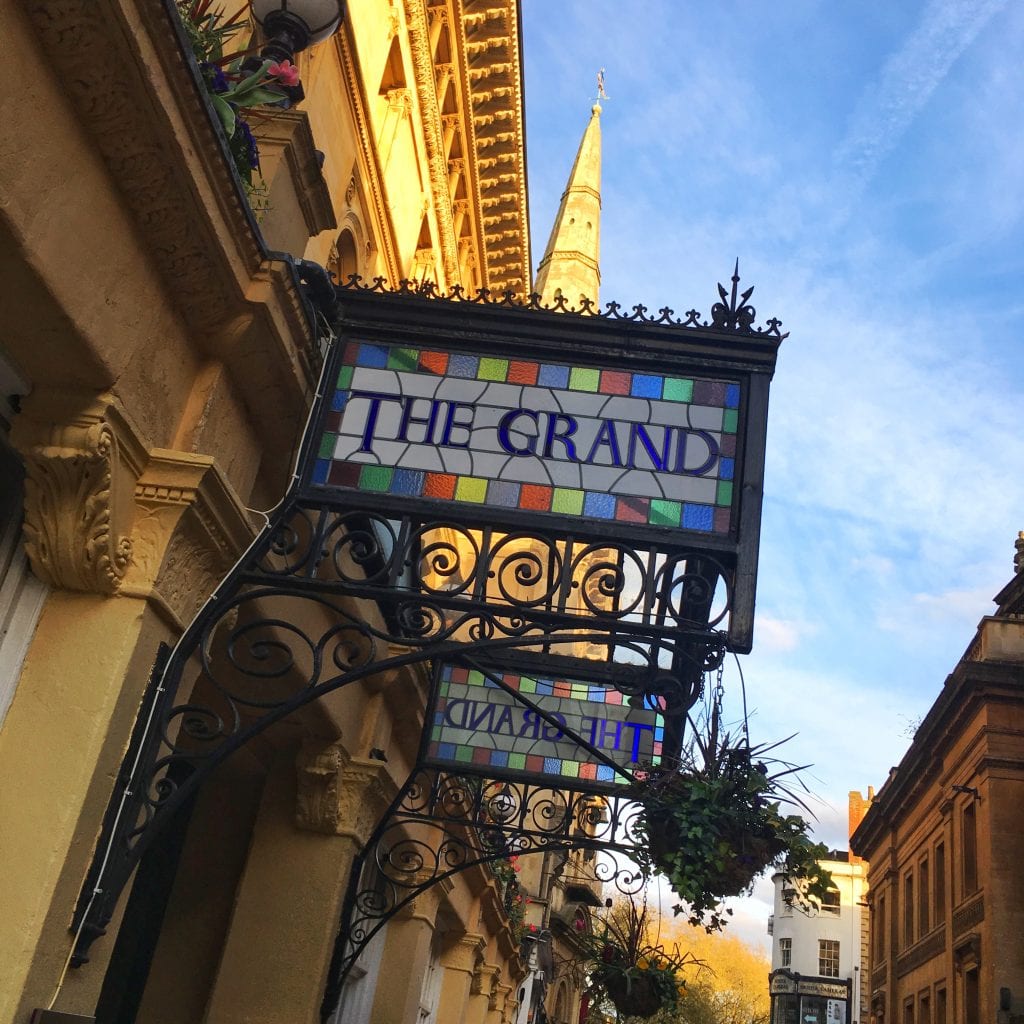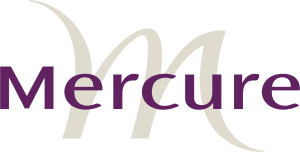 There are a few Mercure Hotels in Bristol, but by far my favourite of the bunch is the Mercure Bristol Grand Hotel. Set close to the shops and a number of fine restaurants the Grand has recently been refurbished and mixes some quirky and designer styling with a very practical and comfortable offering.
First impressions on walking into the hotel foyer is that this is something a bit different to other Mercure hotels. With nice designed lighting (love good lighting in a hotel!) some beautiful art work and then a non standard reception desk - it's all pointers to something a little better! This continues in abundance into the rooms. A really mixed of styles are found the rooms. With classic style bathrooms but with great flooring the rooms have some modern twists on classic designs. Who can't like the multi coloured chair! All this "design" led work though sometimes lead's to it not being practical. Not in this case at all. The beds's are comfortable, the desks are easy to work at and most importantly the shower's great! You really get the feel that you are staying somewhere more upmarket than you actually are. And that's a great thing!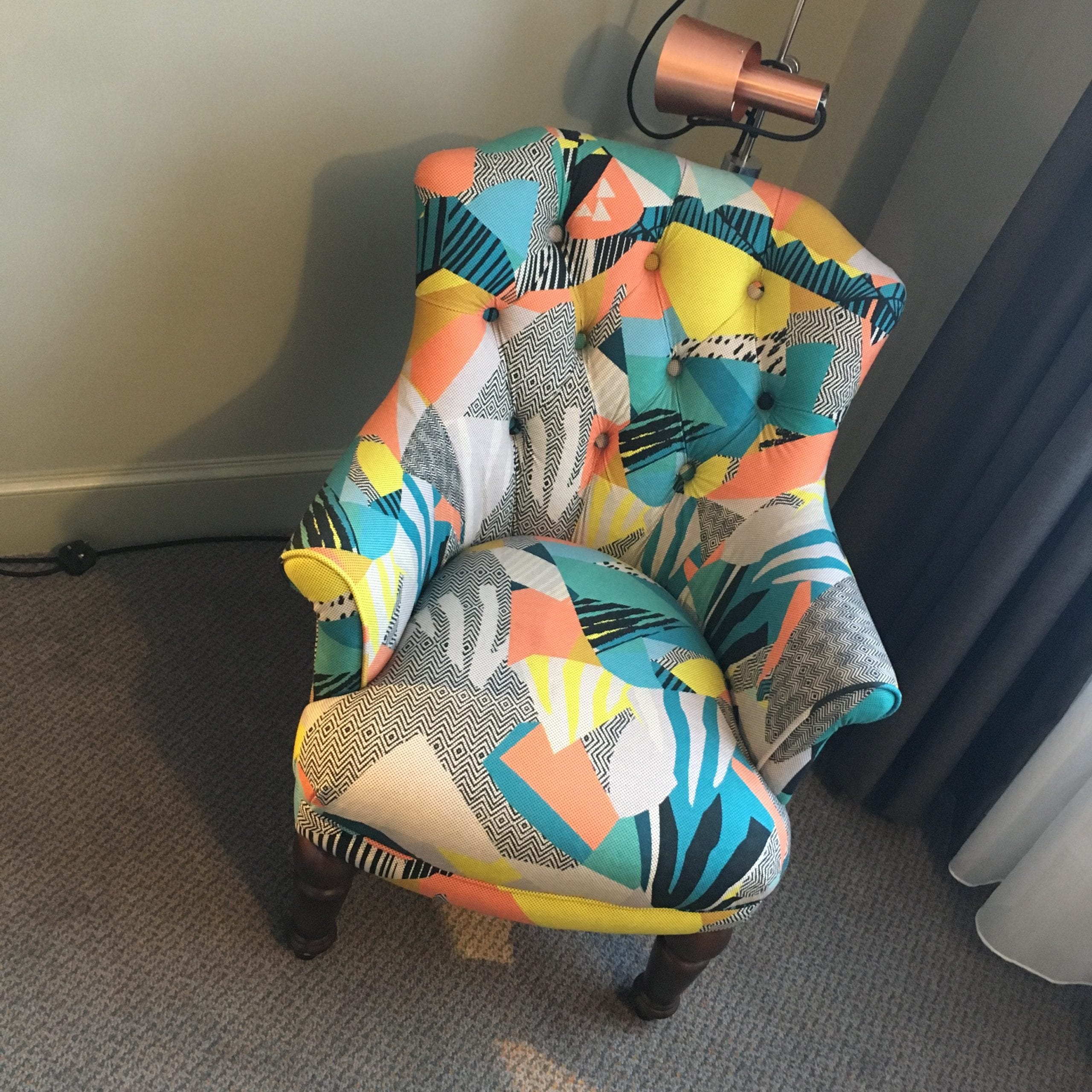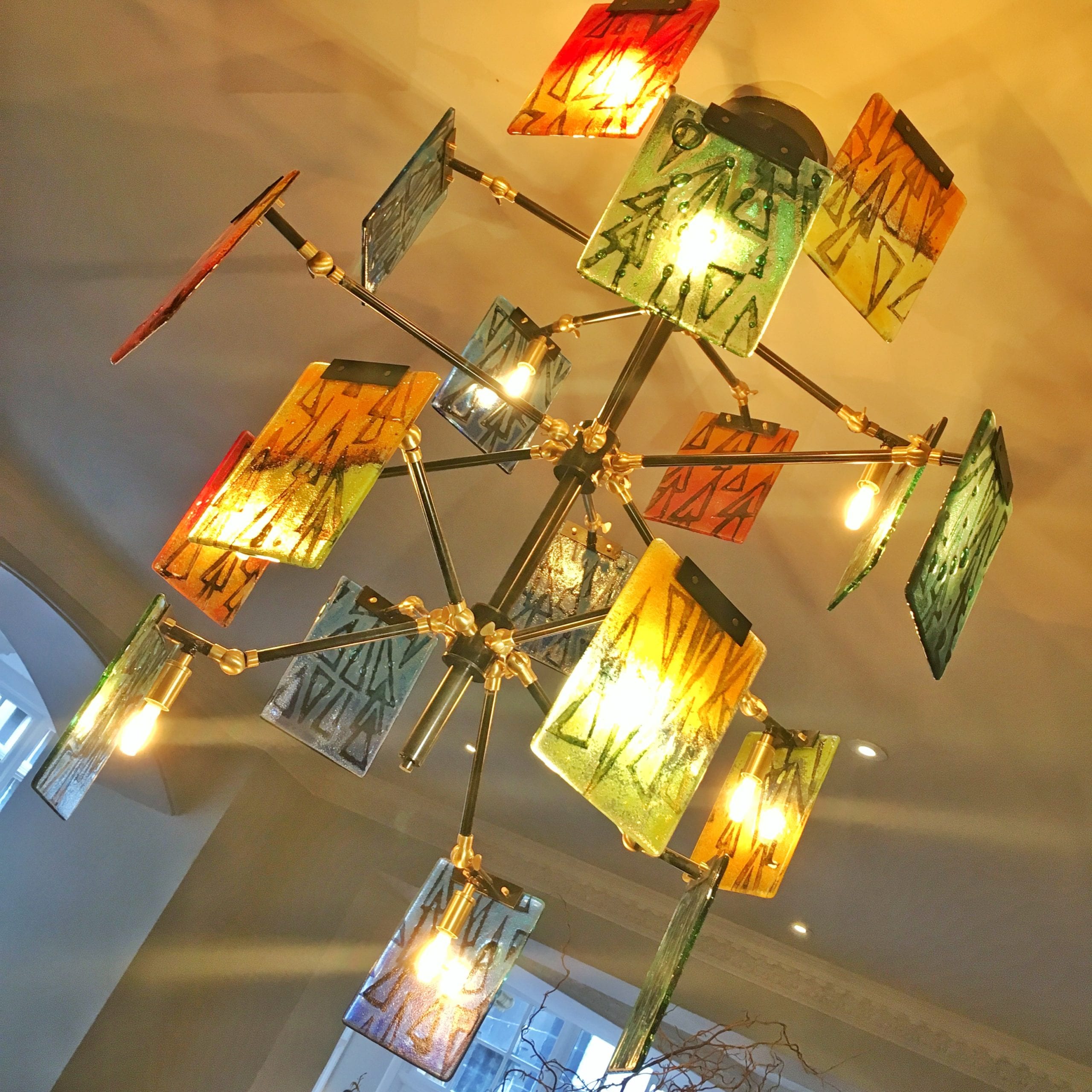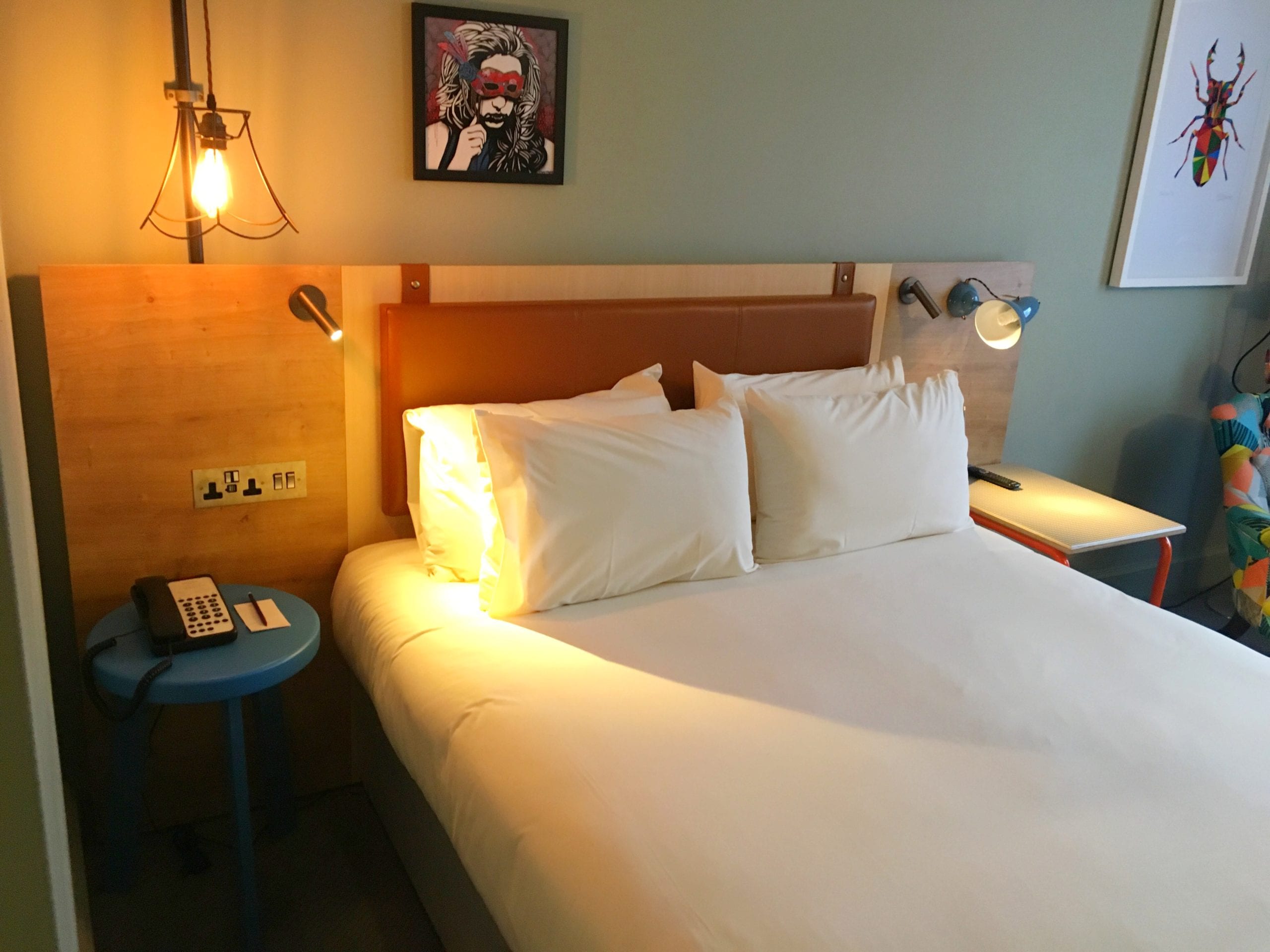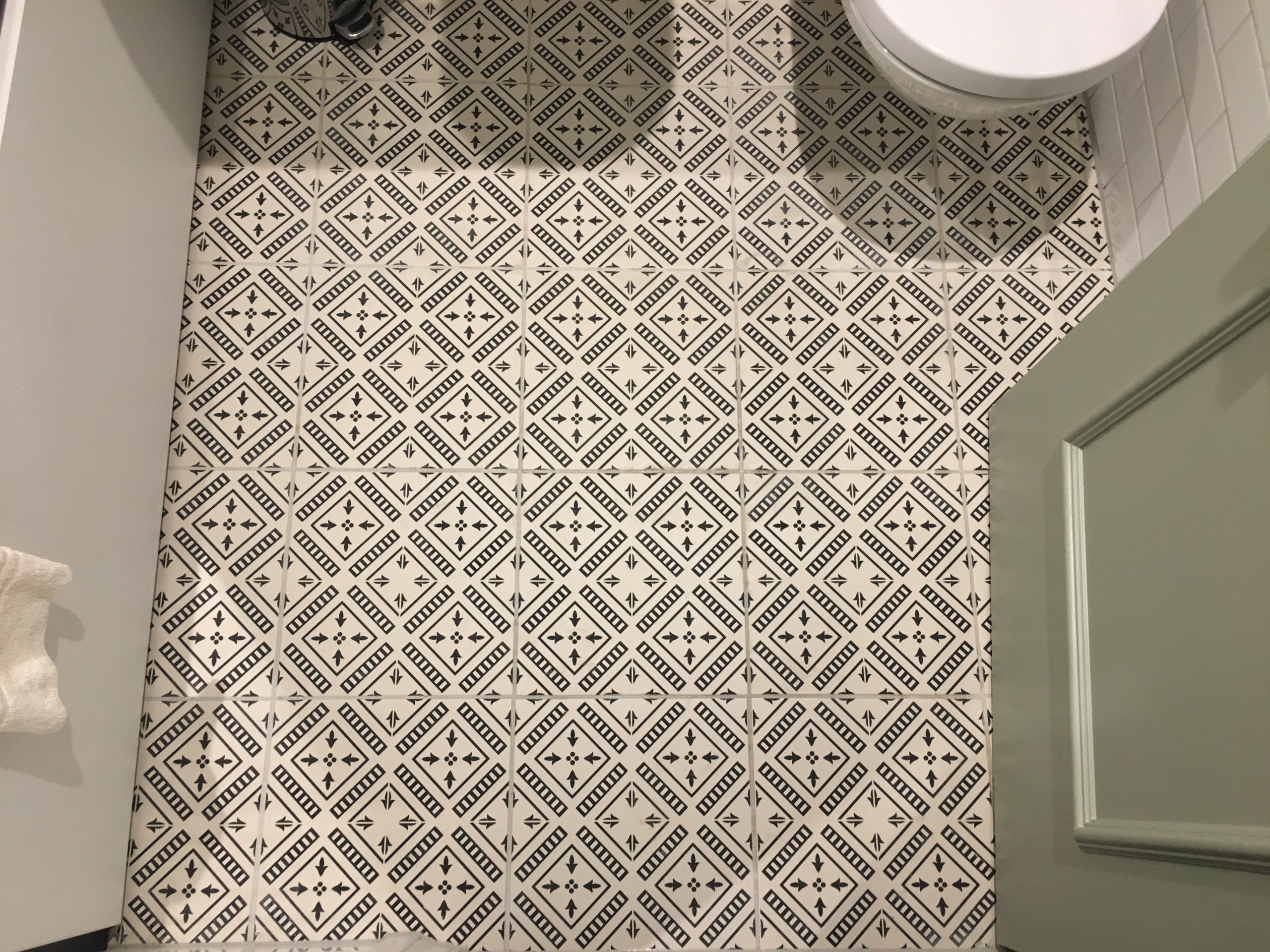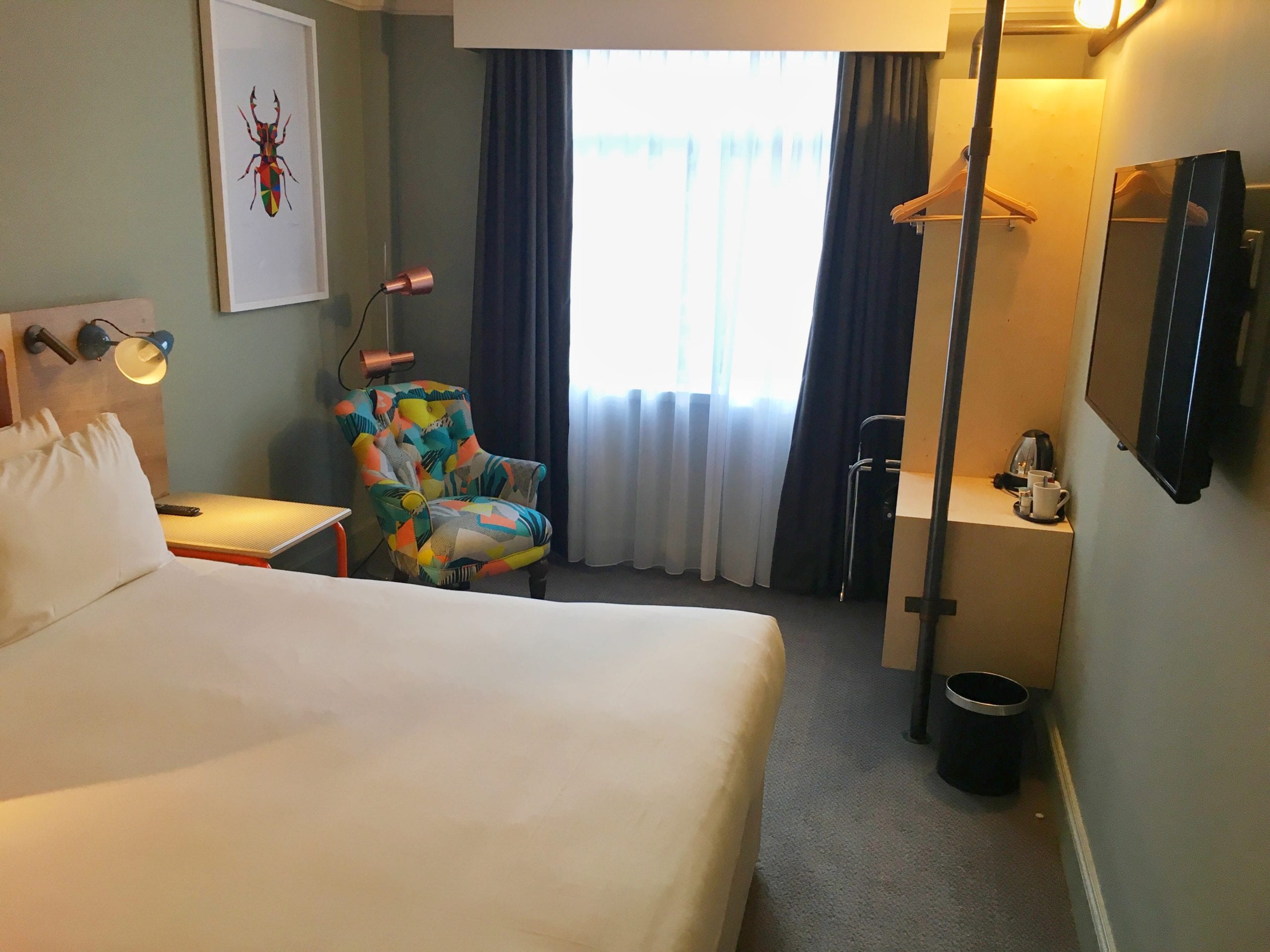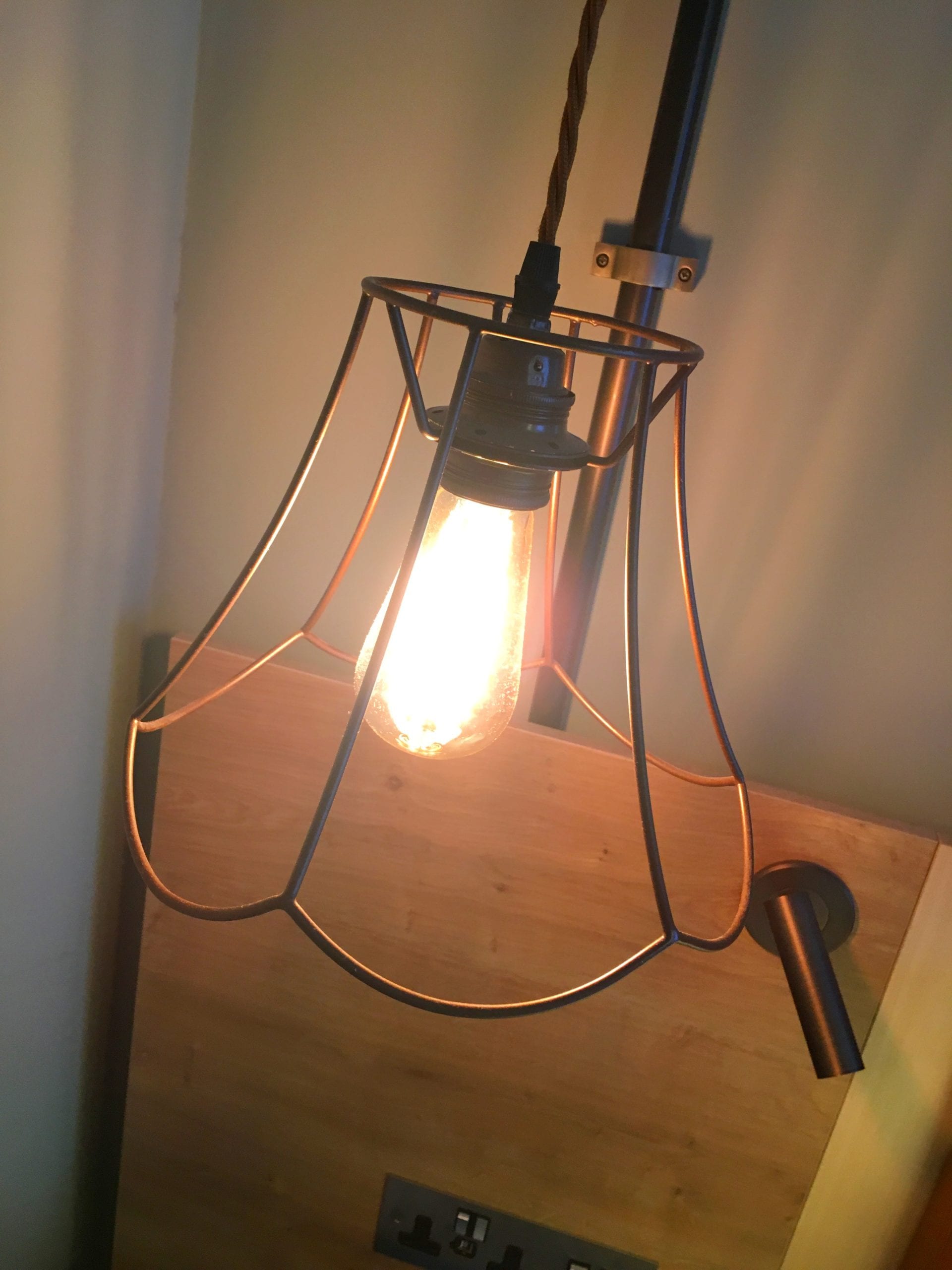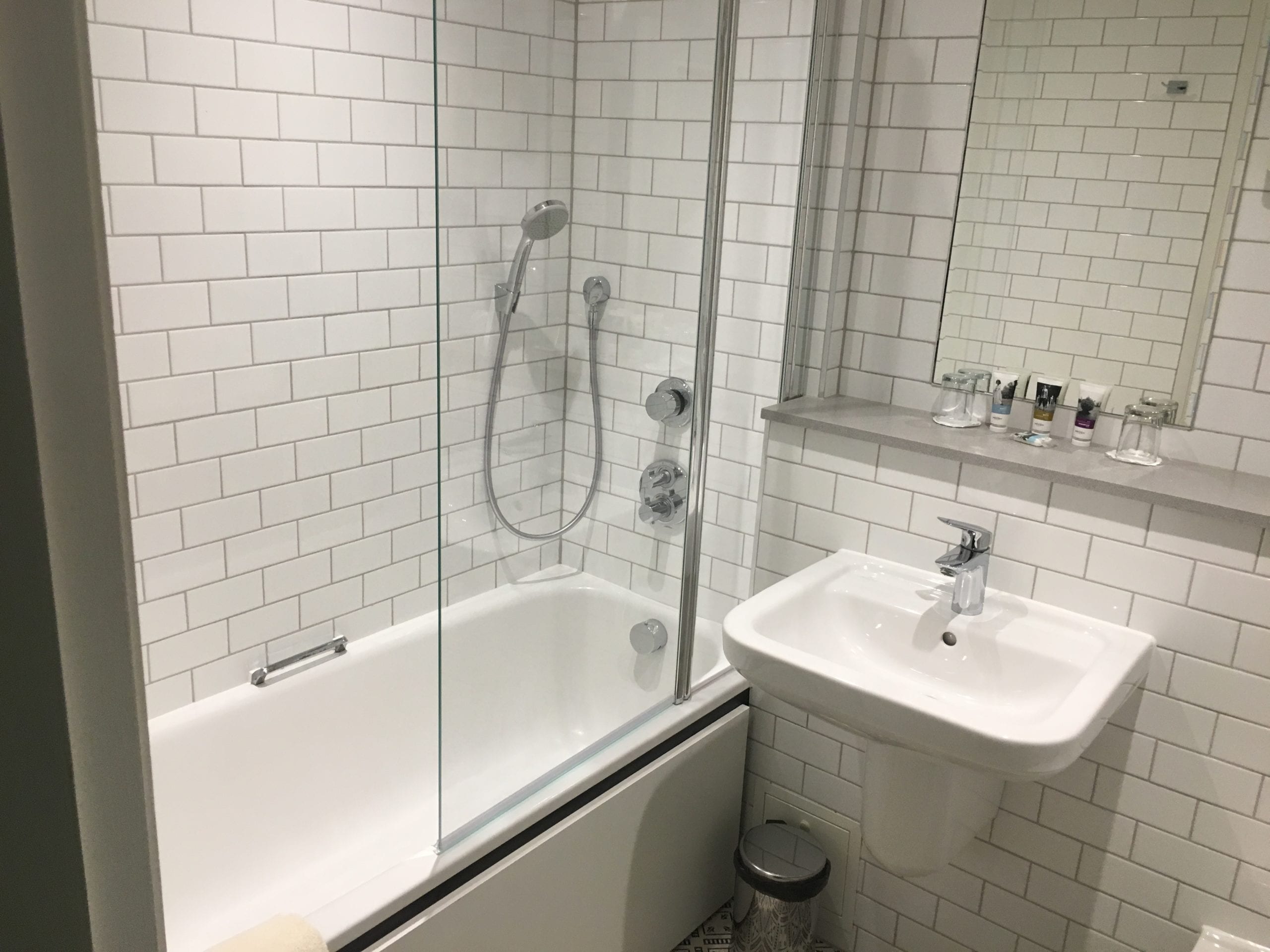 The hotel has a great restaurant again carrying on the interesting design work. The food at evening meal is good quality and reasonably priced. It serves the mix of usual pub grub type fair - but you can tell these haven't come out of a microwave. Breakfast is served in this place as well and it offers the usual mix of continental and cooked should you wish for it. Again all good quality food on offer!
As usual with Mercure hotels the Wifi is Free and Fast and the staff are really helpful. There is an excellent Swimming Pool and Gym facility next door which is usable by members, and in this block is the car parking facility as well. Car Parking is £12 for 24 hours. However there are (if you time it right) a number of on street parking places near by which if you arrive later in the day are far more cost effective.
If you don't want to eat in the restaurant there are a couple of recommendations. About 30 seconds around the corner from the hotel is San Carlo which is one of the best Italian's around. Then down on on the Waterfront is my favourite haunt in Bristol - The Stable. Fantastic options on pizza but more importantly so much Cider to chose from!
If the Mercure Bristol Grand Hotel is booked up why don't you read my review of other Bristol hotels?
Summary
Hotel Address: Broad Street, Bristol BS1 2EL
Wifi: Free, and good speed
Sockets by Bed: Yes
Shower: OK
Official Star Rating: 4 Stars
TS Rating: 4.8 Stars
TS Comment: A really good hotel. It's not your standard boring copy and paste rooms and for someone who's in hotels 3 or 4 nights a week it makes for a really nice change! There isn't anything to fault here at all. Rooms good quality, price good, friendly and helpful staff. What more could you wish for!
.view *:not(i), .album_categories *, .album_back_button *, #album_disabled_layer { font-family: sans-serif, Arial, Verdana, Sylfaen !important; }
#album_disabled_layer { display: none; position: absolute; width: 100%; height: 100%; text-align: center; background-color: transparent; z-index: 10; padding-top: 20px; color: #fff; }
#album_list_container { position: relative; }
/* ====================== album onhover styles ==========================*/
#album_list .view { -webkit-box-sizing: border-box; -moz-box-sizing: border-box; -o-box-sizing: border-box; display: none;
}
.view .mask, .view .content { width: 100%; height: 100%; position: absolute; overflow: hidden; top: 0; left: 0; }
.view h2 { text-transform: uppercase; color: #fff; text-align: center; position: relative; font-size: 17px; font-family: Raleway, serif; padding: 10px; /*background: rgba(0, 0, 0, 0.8);*/ margin: 20px 0 0 0;
}
.album_back_button a, .view a { text-decoration: none !important; }
.view p { font-family: Merriweather, serif; font-style: italic; font-size: 14px; position: relative; color: #fff; padding: 0px 20px 0px; text-align: center;
}
.view a.info { display: inline-block; text-decoration: none; font-size: 13px; padding: 2px 14px; margin-bottom: 3px; background: #000; color: #fff; font-family: Raleway, serif; text-transform: uppercase; box-shadow: 0 0 1px #000 }
.mask-text h2 { font-size: 20px !important; }
.view a.info:hover { box-shadow: 0 0 5px #000 }
.view .mask-bg { height: 100%; }
.view .album_social { color: #fff; position: absolute; bottom: 3px; left: 3px; border: 1px solid #ffffff; -webkit-border-radius: 3px; -moz-border-radius: 3px; border-radius: 3px; padding: 3px 5px;
}
.view .album_social:active, .view .album_social:focus, .view .album_social:hover { color: #ffffff; outline: none; }
/*1*/
.view .info { margin-top: 5px; }
.view-first .mask { opacity: 0; background-color: rgba(0, 0, 0, 0.7); transition: all 0.4s ease-in-out;
}
.view-first h2 { transform: translateY(-100px); opacity: 0; font-family: Raleway, serif; transition: all 0.2s ease-in-out; }
.view-first p { transform: translateY(100px); opacity: 0; transition: all 0.2s linear; }
.view-first a.info { opacity: 0; transition: all 0.2s ease-in-out; }
/* */
.view-first:hover img { /*transform: scale(1.1);*/ }
.view-first:hover .mask { opacity: 1; }
.view-first:hover h2, .view-first:hover p, .view-first:hover a.info { opacity: 1; transform: translateY(0px); }
.view-first:hover p { transition-delay: 0.1s; }
.view-first:hover a.info { transition-delay: 0.2s; }
/*2*/ .view-second img { -webkit-filter: grayscale(0) blur(0); filter: grayscale(0) blur(0); -webkit-transition: .3s ease-in-out; transition: .3s ease-in-out; }
.view-second .mask { background-color: rgba(226, 200, 127, 0.2); transition: all 0.5s linear; opacity: 0; }
.view-second h2 { background: transparent; margin: 20px 40px 0px 40px; transform: scale(0); color: #333; transition: all 0.5s linear; opacity: 0; }
.view-second p { opacity: 0; transform: scale(0); transition: all 0.5s linear; }
.view-second a.info { opacity: 0; transform: scale(0); transition: all 0.5s linear; }
.view-second:hover img { -webkit-filter: grayscale(100%) blur(3px); filter: grayscale(100%) blur(3px); }
.view-second:hover .mask { opacity: 1; }
.view-second:hover h2, .view-second:hover p, .view-second:hover a.info { transform: scale(1); opacity: 1; }
.view-second img { -webkit-filter: grayscale(0) blur(0); filter: grayscale(0) blur(0); -webkit-transition: .3s ease-in-out; transition: .3s ease-in-out; }
.view-second:hover img { -webkit-filter: grayscale(100%) blur(3px); filter: grayscale(100%) blur(3px); }
/*3*/
.view-third img { transform: scaleY(1); transition: all .7s ease-in-out; }
.view-third a.info { opacity: 0; transform: scale(0); transition: all 0.5s linear; }
.view-third:hover img { -webkit-transform: scale(10); transform: scale(10); opacity: 0; }
.view-third:hover .mask { opacity: 1; }
.view-third:hover h2, .view-third:hover p, .view-third:hover a.info { transform: scale(1); opacity: 1; }
/* ==== view 4 ===*/
.view-forth-wrapper { overflow: hidden; position: relative !important; height: 100%; /* cursor: pointer;*/ }
.view-forth img { max-width: 100%; position: relative; top: 0; -webkit-transition: all 600ms cubic-bezier(0.645, 0.045, 0.355, 1); transition: all 600ms cubic-bezier(0.645, 0.045, 0.355, 1); }
.view-forth .mask { position: absolute; width: 100%; /* height: 70px;*/ /* bottom: -70px;*/ height: 50%; bottom: -50%; -webkit-transition: all 300ms cubic-bezier(0.645, 0.045, 0.355, 1); transition: all 300ms cubic-bezier(0.645, 0.045, 0.355, 1); top: inherit; }
.view-forth:hover .mask { bottom: 0; }
.view-forth:hover img { top: -30px; }
/*== view 5 ==*/
.view-fifth .view-fifth-wrapper, .view-fifth .view-fifth-wrapper img { display: block; position: relative; }
.view-fifth .view-fifth-wrapper { overflow: hidden; height: 100%; }
.view-fifth .view-fifth-wrapper .mask { display: none; position: absolute; background: #333; background: rgba(75, 75, 75, 0.7); width: 100%; height: 100%; }
/* ====================== album category styles ==========================*/
#filters { margin: 1% 0; padding: 0; list-style: none; list-style-type: none !important;
}
#filters li { float: left; list-style-type: none !important; }
#filters li:first-child span { margin-left: 0px; }
#filters li span { display: block; text-decoration: none; cursor: pointer; }
.album_categories { list-style-type: none; margin: 0; padding: 0; overflow: hidden; padding-top: 5px; }
/*========= sharing buttons ============*/
.album_socials { position: relative; top: 3px; width: 100px; height: 28px; margin: 0 auto; }
.album_socials .rwd-share-buttons { top: 0px !important; width: 100% !important; margin: 0px !important; }
.album_socials a { text-decoration: underline !important; }
.gallery_images, .album_image_place { margin-top: 15px; margin-top: 15px; }
#rwd-share-facebook:hover { background-position: 0 -31px !important; }
#rwd-share-twitter:hover { background-position: -31px 32px !important; }
#rwd-share-googleplus:hover { background-position: -66px -31px !important; }
.rwd-share-buttons li, .rwd-share-buttons li a { width: 26px !important; border: 0px !important; }
.rwd-share-buttons { top: 0 !important; }
.img_link_btn { position: absolute; z-index: 99999; bottom: 0; left: 0; right: 0; width: 100%; padding: 8px; }
.rwd-title { padding: 10px 0px !important; }
@media only screen and (max-width: 475px) { .rwd-share-buttons { top: -25px !important; }
.rwd-title-text { line-height: 15px; } }
/*========= hover style ===========*/
#hover { color: rgba(188, 175, 204, 0.9); }
h2#testimonials { color: #fffae3; }
div#all { width: 100%; height: 100%; }
.view img { height: auto; }
.view { color: #fff; margin: 0 10px 10px 0; overflow: hidden; position: relative; text-align: center; float: left; cursor: default; border: 1px solid #ccc; }
.view-wrapper { height: 100%; }
.view img { display: block; position: relative; transition: all 0.2s linear; height: 100%; width: auto; max-width: 100%; margin: 0 auto; }
.mask-text h2 { font-size: 20px !important; margin-top: 20px !important; }
/* view 1 */
.view-first .text-category, .view-first .mask-text h2, .view-first .mask-text p { color: #fff; }
/* view 2 */ .view-second .text-category, .view-second .mask-text h2, .view-second p { color: #333; }
.view-second .mask-text h2 { border-bottom: 1px solid #333; }
/* view 3*/ .view-third .mask { background-color: #ccc; transition: all 0.5s linear; opacity: 0; color: #333; }
.view-third h2 { border-bottom: 1px solid #333; background: transparent; margin: 20px 40px 0px 40px; transform: scale(0); color: #333; transition: all 0.5s linear; opacity: 0; }
.view-third p { color: #333; opacity: 0; transform: scale(0); transition: all 0.5s linear; }
.view-third .text-category { color: #333; }
/* view 4 */
.view-forth .mask-bg { background: #333; width: 100%; height: 100%; position: absolute; top: 0; left: 0; }
.view-forth .mask-text { color: #fff; position: relative; z-index: 500; padding: 5px 8px; }
.view-forth .mask-text h2 { margin: 0px; font-size: 13px; padding: 2px; color: #fff; }
.view-forth .mask-text h2:hover { cursor: pointer; }
.view-forth .text-category { display: block; font-size: 15px; color: #fff; }
.view-forth p { color: #fff; }
/* view 5 */ .view-fifth .text-category, .view-fifth .text-category *, .view-fifth .mask-text h2, .view-fifth .mask-text p { color: #fff; }