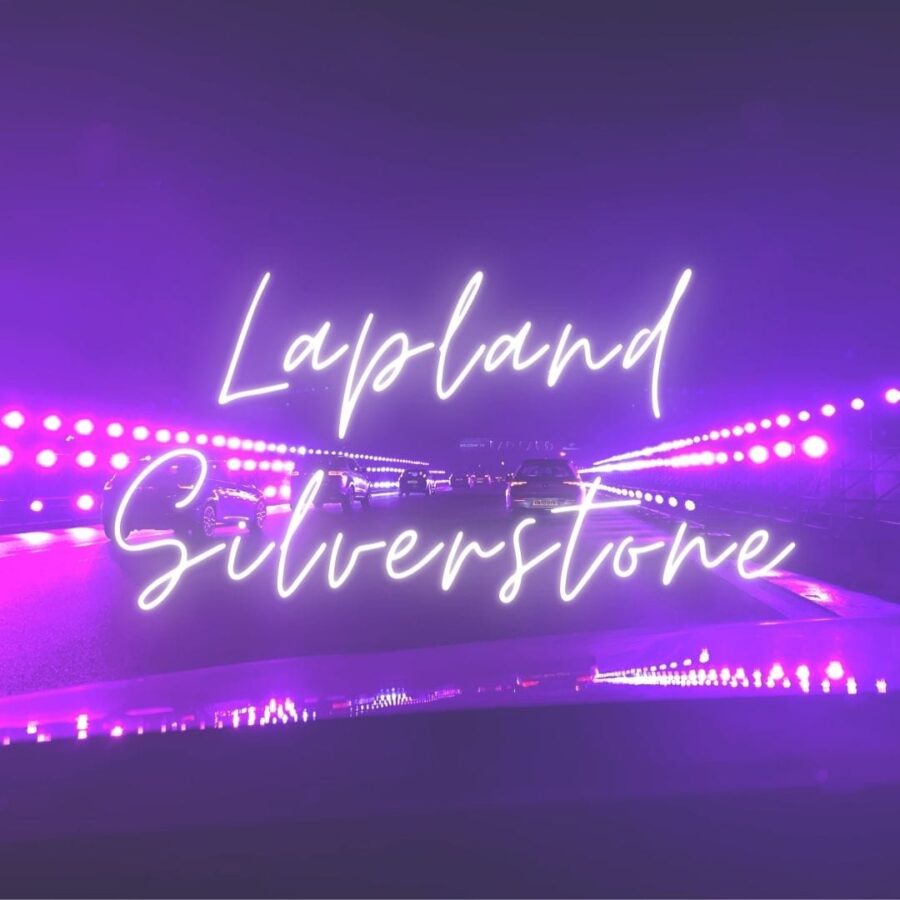 Lapland Silverstone
Just before xmas we headed off to Lapland Silverstone. For me (and anyone who knows me) I'm a massive petrol head. The fact that we did Route 66, Indy 500, and multiple other race events should give you this clue! So for the ability to take our own car onto the world famous Silverstone Race Circuit was something that we couldn't turn down. To add even more to this the track was being lit up with lots of lighting and effects. Given that this is the day job and something I'm equally passionate about the whole Lapland experience was like a perfect match!
Approaching Lapland Silverstone
So one cold December evening we headed off to Silverstone. As we approached the circuit from a good few miles away you could see all the lights in the sky. If there was ever anything to draw you in this was it! A nice simple drive and an hour and half later we were at the gates to the famous race track.
Once you had the friendly welcome you headed off towards the track itself. At all times you stayed in your own car and given the rising covid numbers in the UK this felt a really safe event.
For anyone who reads my blog and is also a F1 fan, we entered the track just at the end of the Wellington straight and heading into Brooklands. Here you line up in 2 lines and start to head down through Luffield, Woodcote and on to the National Straight. Officially this isn't part of the "experience" but parts of the old Pit buildings are lit up to start to get you in the spirit. You can also tune your radio to 87.7FM to pick up Radio Silverstone playing Xmas tunes to get you in the spirit.
As you go past the famous old pits you can't help but remember famous victories of the likes of Mansell, Senna, Hill etc who you have seen on this very bit of track!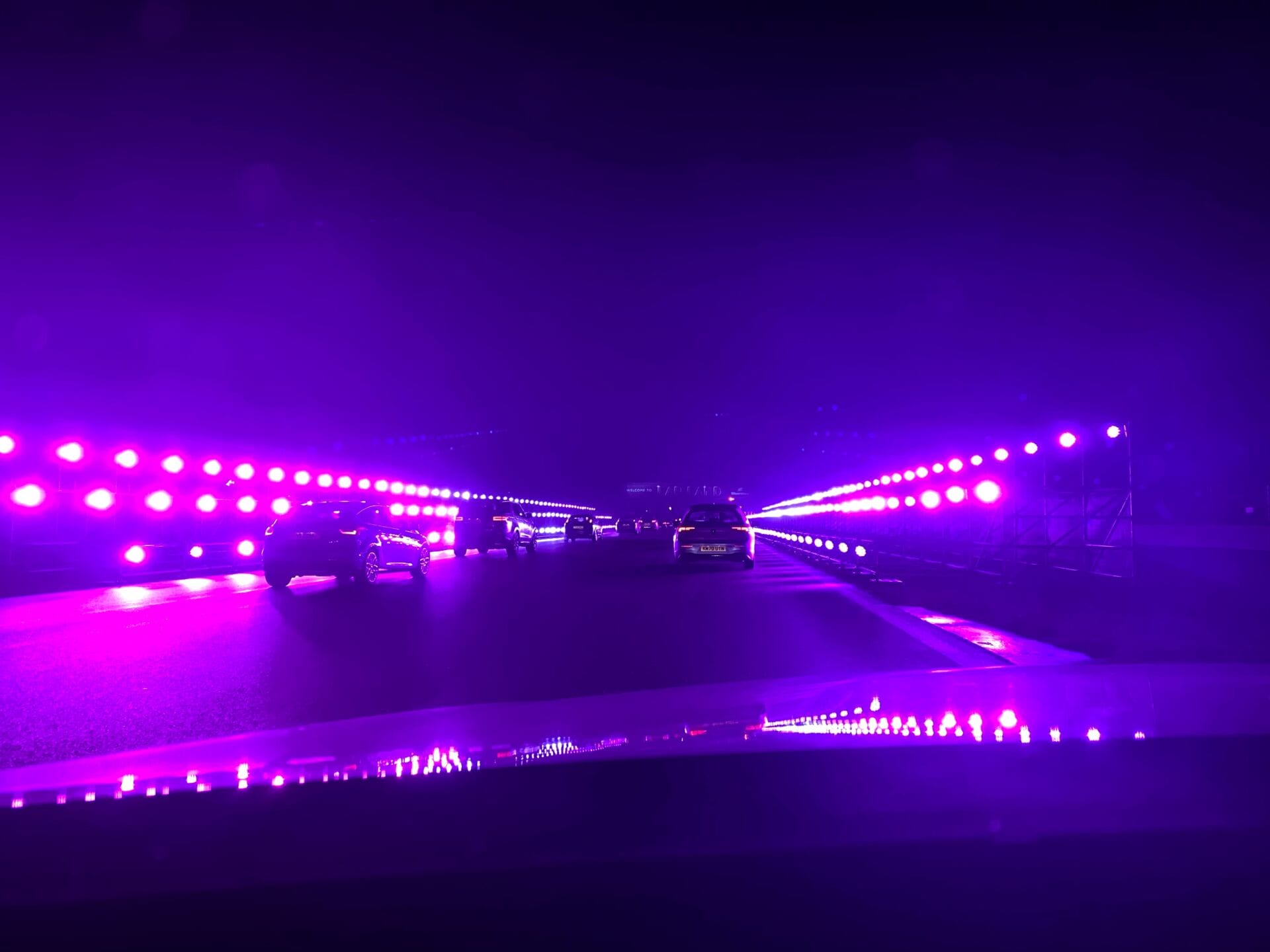 Lapland Silverstone Experience Starts
Once you get into the Maggots/Beckets series of corners this is where the experience really starts with "snow globes" and Xmas trees. You can see all the amazing lights away in the distance around the new Hamilton pit straight but your focus is on the here and now.
Here is the part to mention you don't drive like Lewis Hamilton The track speed is about 10 miles an hour. We found ourselves doing less than this at times. You are following a pace car at all times which tracks the speed. However to be true if you went faster than this you would miss things!
So as you headed down Hanger straight you were met with a wall of colour on either side from lots of lights. The lights were constantly changing with patterns running up and down it in multiple colours. Past the bridge on hanger straight it was then not only colour changing lights it was moving lights as well. All nice beams in the air and lots of great effects as you drove a long.
Stowe Corner
Stowe corner saw the addition of large boxes of light again all colour changing. These created a huge and very beautiful effect as you approached. Think of it looking like a graphic equaliser from the 80's. As you rounded Stowe and before you hit Vale complex there were tunnels created with laser lighting.
Now as a lighting person I have mixed views about lasers. Done well they can look great. Done bad they look bad! However on this occasion they looked great! Some really nice effects of moving content and something different to look at.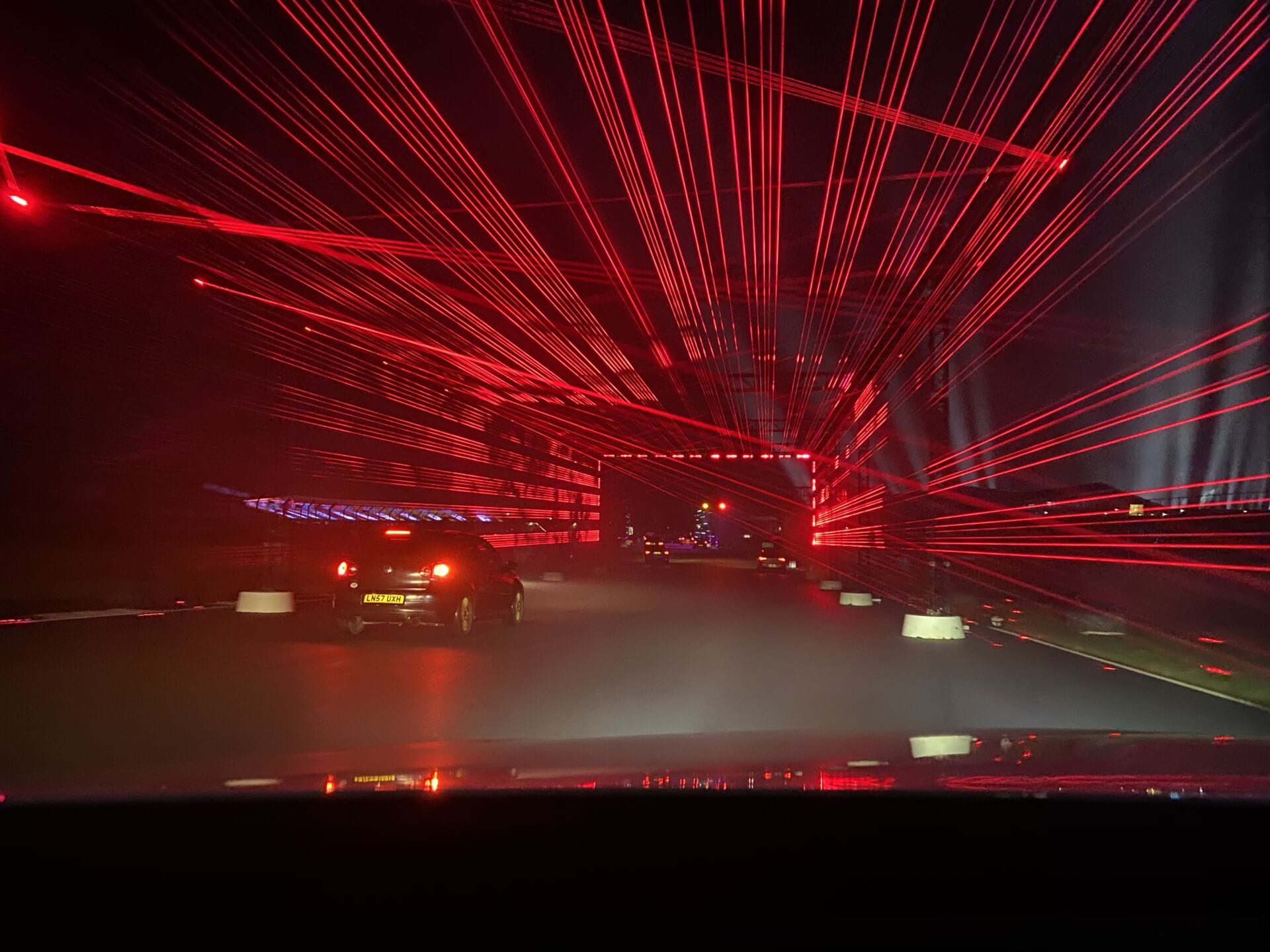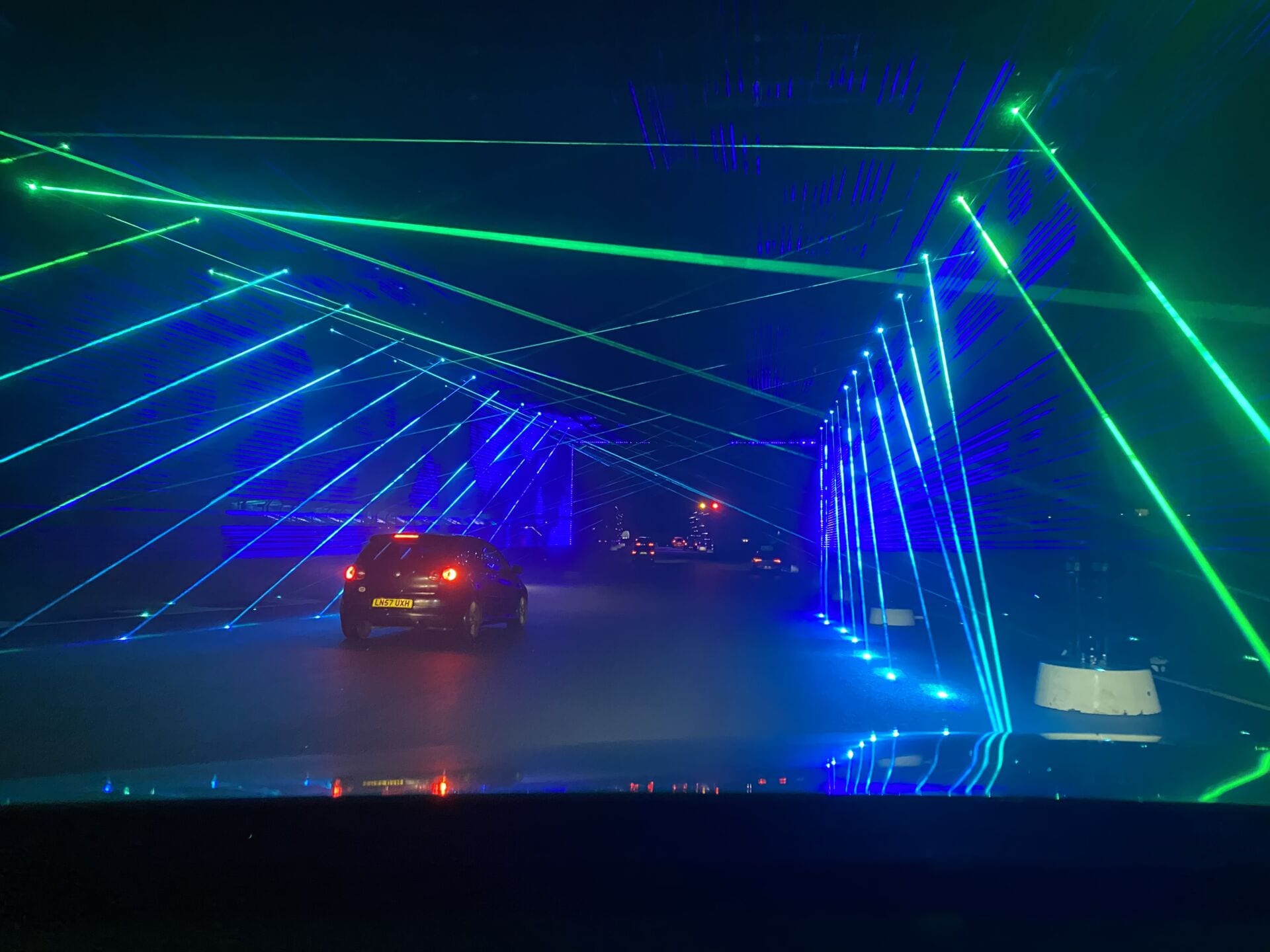 The Hamilton Straight
Rounding through Vale and into Club the Hamilton Straight you see the really impressive pit building. The TV pictures don't give this building the size of scale that it is. For lapland Silverstone it rises from the ground like a majestic beast all lit up and standing proud to the race track. As you come down the pit straight there are moving lights all around. Creating beams and patterns in the sky. You could be at any Rock and Roll concert in the world! It's an impressive look as you drive along under the start/finish sign. The area is constantly changing, and as you drive through you get lots of different "looks"
At the end of the Hamilton straight you turn into Abbey and Farm and again you are met with walls of light. Again changing colours and again with different patterns of light going across them. All very impressive!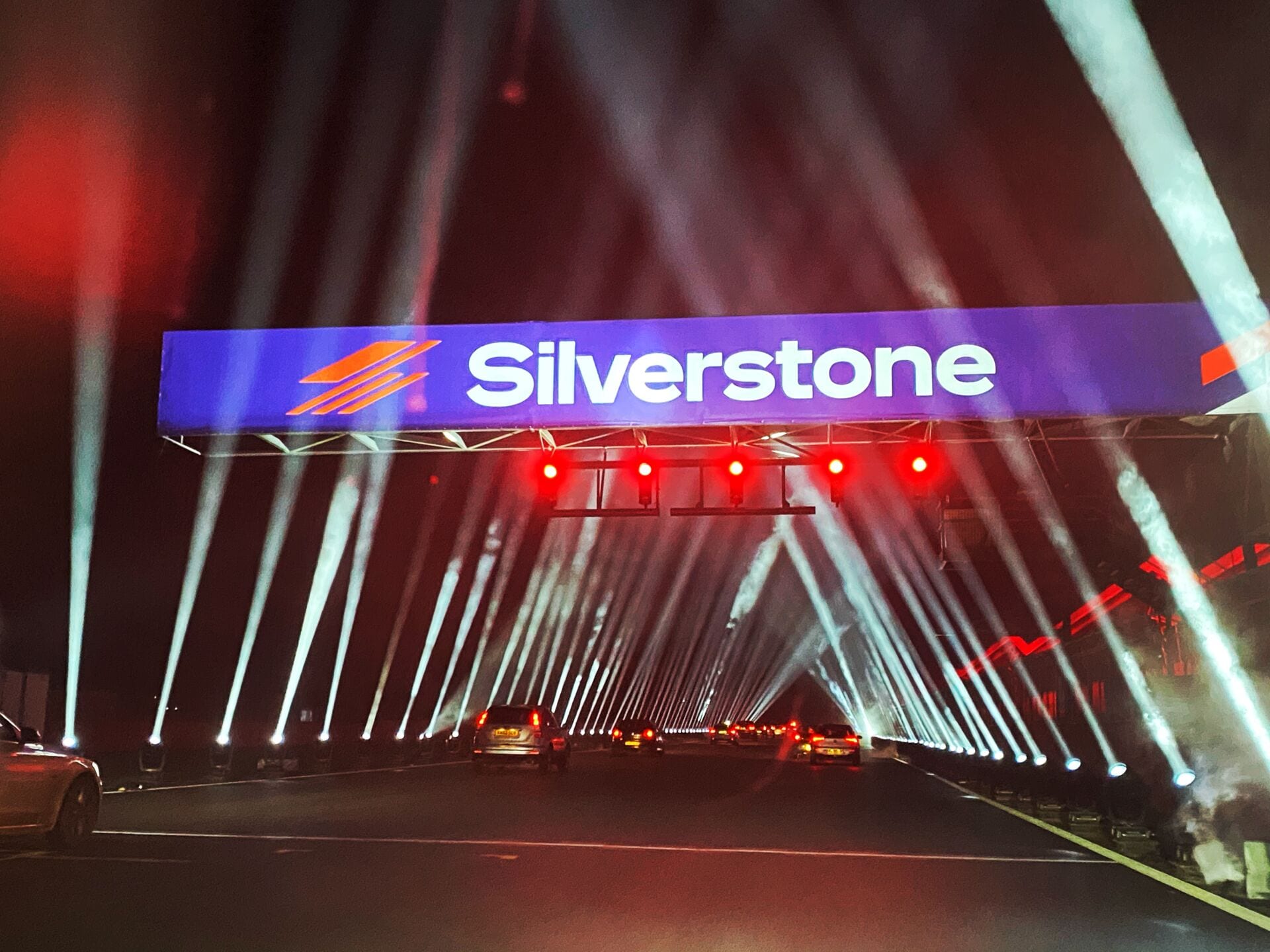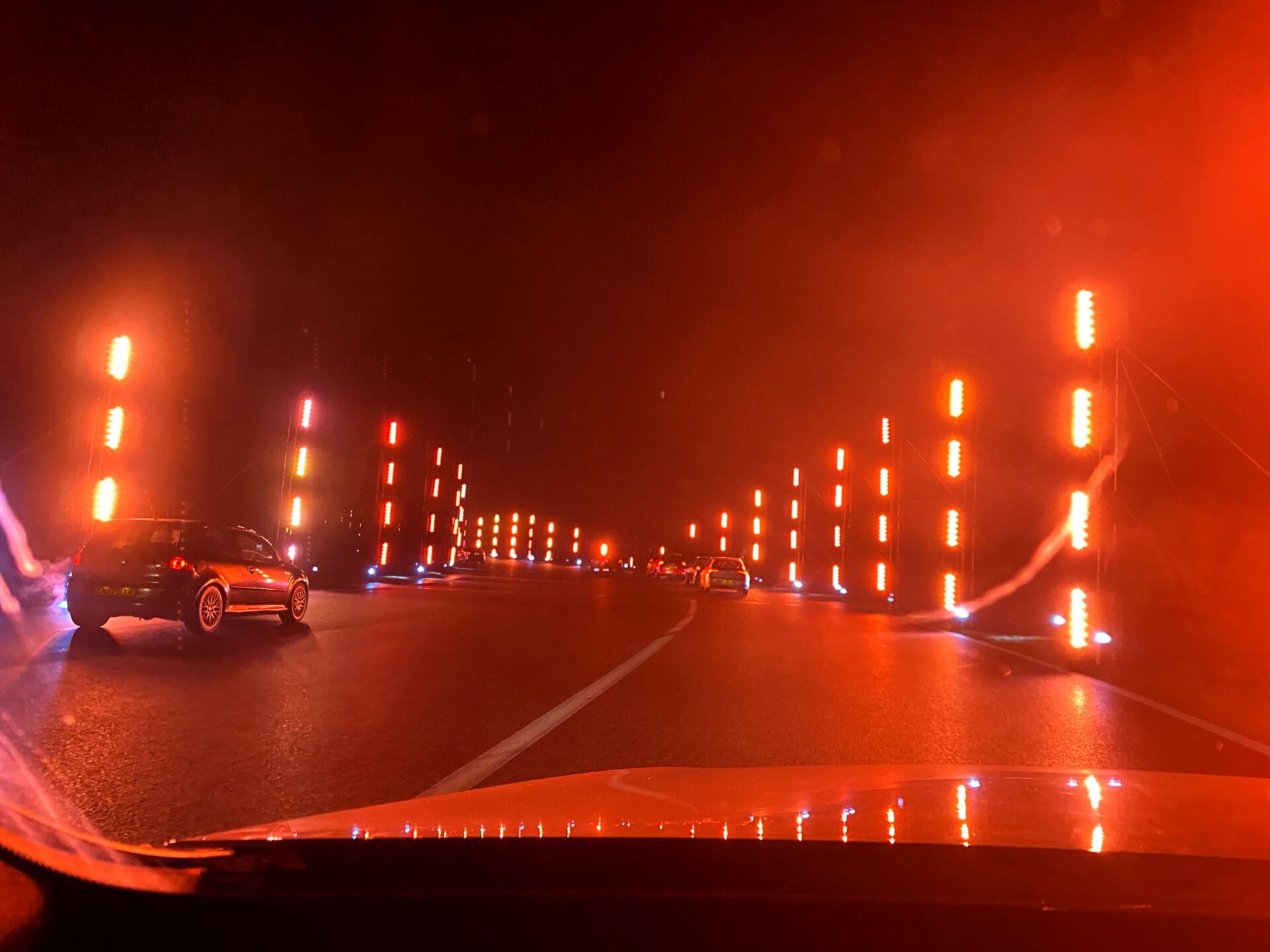 The End
And then that's it! You've done a large amount of the track and you make your way out to the exit. I reckon driving the track it took about 45min/1hr but it feels busy at all times. Each section of the track is different and looks different. From my "day job" hat they have done well to do this and it impressed me. Each "zone" is its own style and that was great to see.
Full credit should go to the team at Silverstone for putting on this event. I know they have had a load of people come who aren't F1 fans but more wanted something to do this year. Given the horrific state of the events industry to see lighting products out being used was a good thing. There are miles and miles of cable, hundreds of lights and huge amounts of infrastructure that's gone into it. So well done to all.
Ticket prices were a reasonable £35 per car which if you put a family of 4 in it is really good value.
I hope that Lapland Silverstone comes back next year and they can build on it and make it better still. We for sure will be back!
https://www.laplandsilverstone.co.uk/
This is my last post of 2020. Just leaves me to wish you a happy new year and hopefully a better 2021 for us all!
Ben