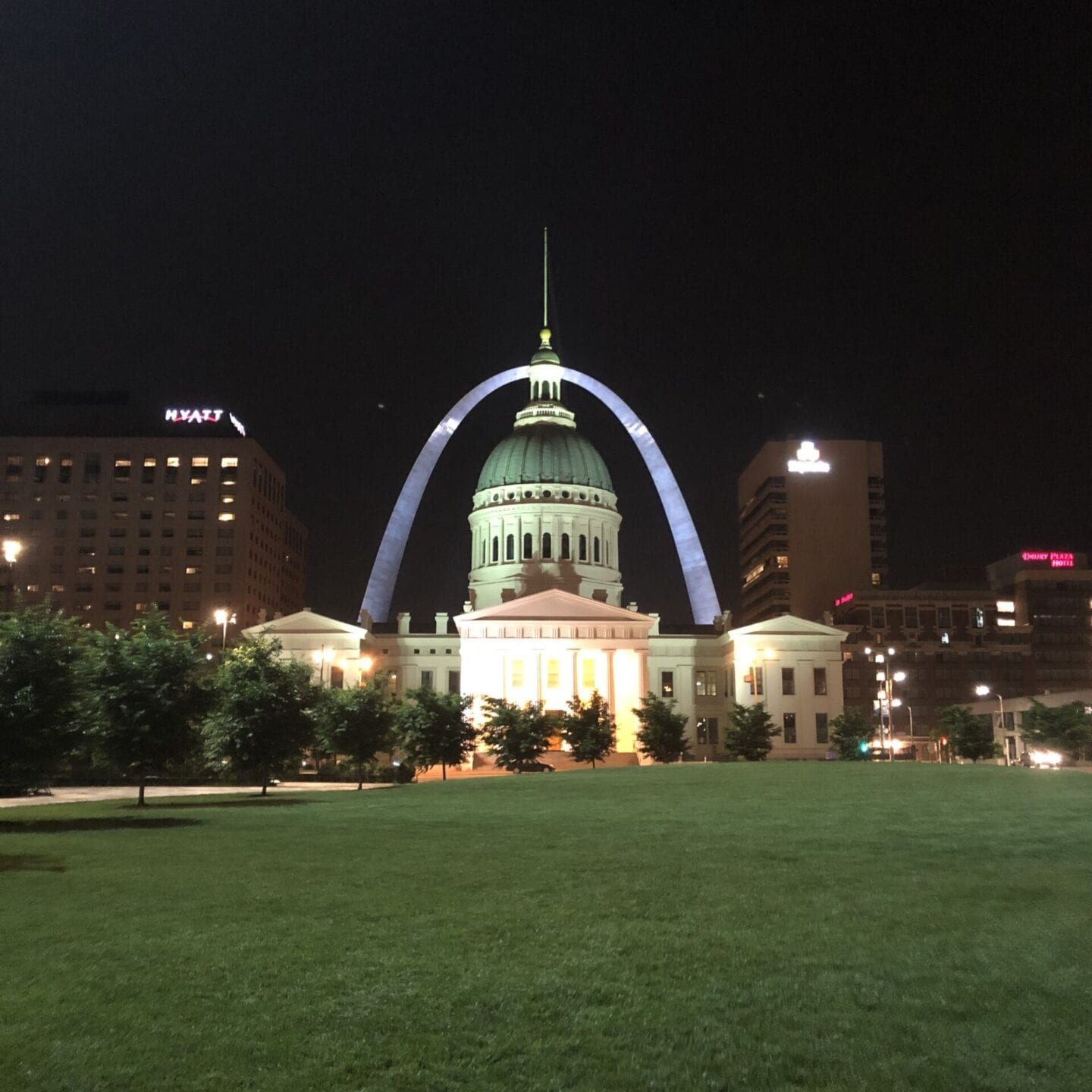 St Louis the start of Route 66 Missouri
When you enter St Louis you come in via the state of Illinois. When you leave St Louis you are on Route 66 Missouri. St Louis for us was probably the "worst" city of the Route 66. I don't know what it was about the city - but for us it was a little disappointing and probably one of the only times we didn't feel safe on Route 66.
We stayed downtown in a chain hotel and our night in the city walked to the Gateway Arch to get a good sight of the city at night. For me this was great to see a city at night from on high - but I'm sure that in the day time the view would have been great. The ride to the top of the Arch is about $15 per person. As a word of warning - if you are claustrophobic this might not be one for you. You have to sit in a very very small pod with 4 other people and there isn't a way out until you hit the top!
Also worth doing in St Louis would be a river cruise. Sadly when we went the river was flooded and all the cruises were not running but certainly would be a great thing to do. The cost of this is about $20 per person.
As you leave the city of St Louis a stop at the Legendary Ted Drewes Frozen Custard - which is a local must!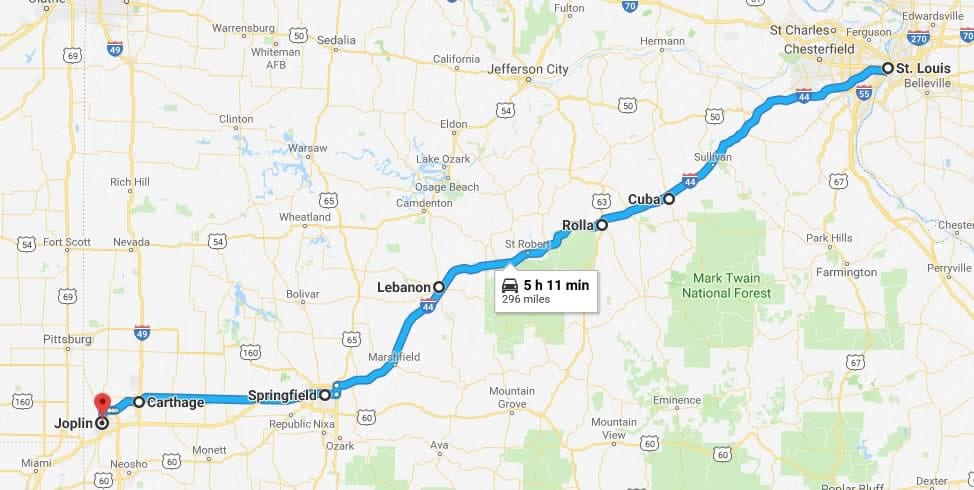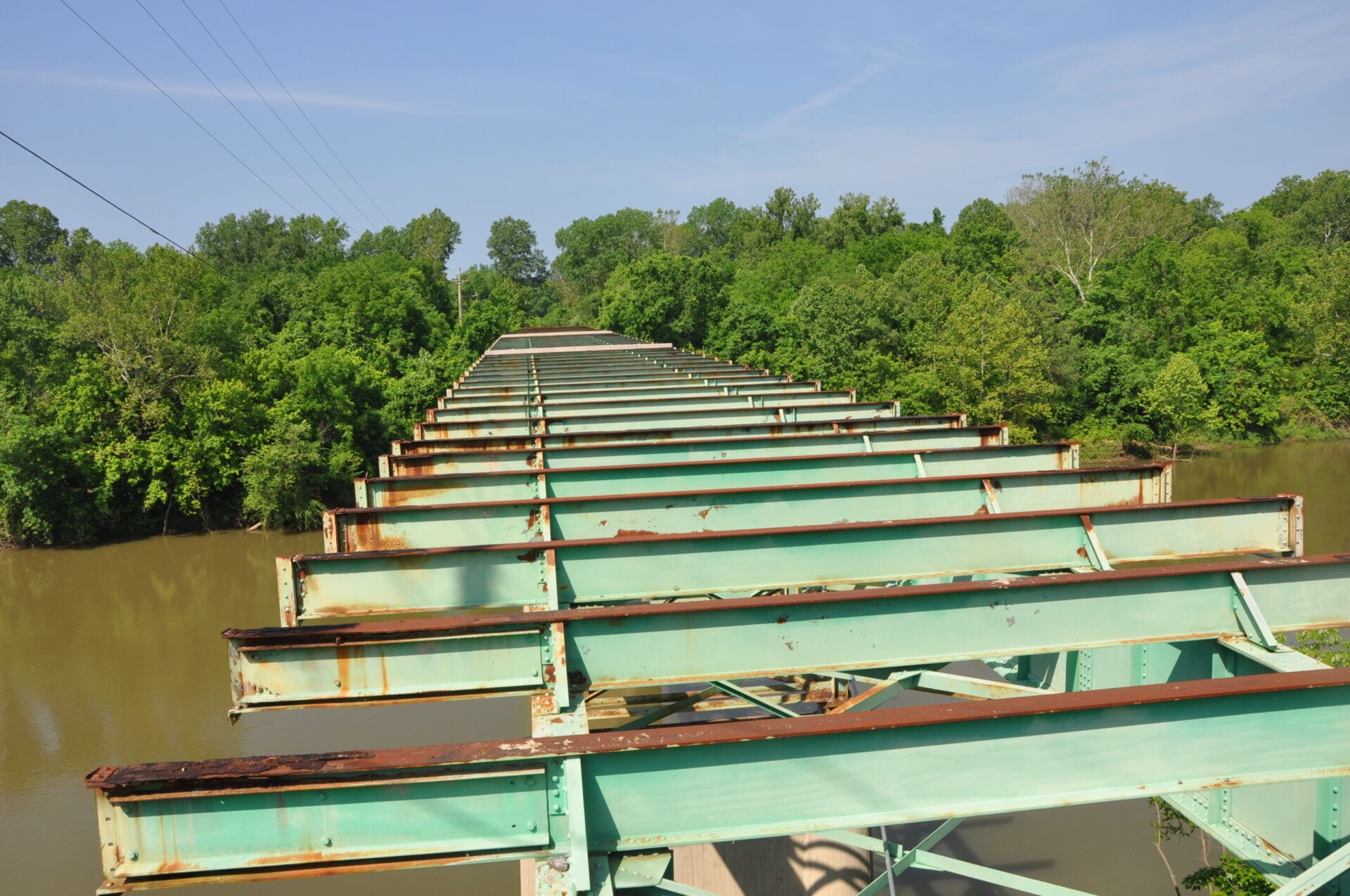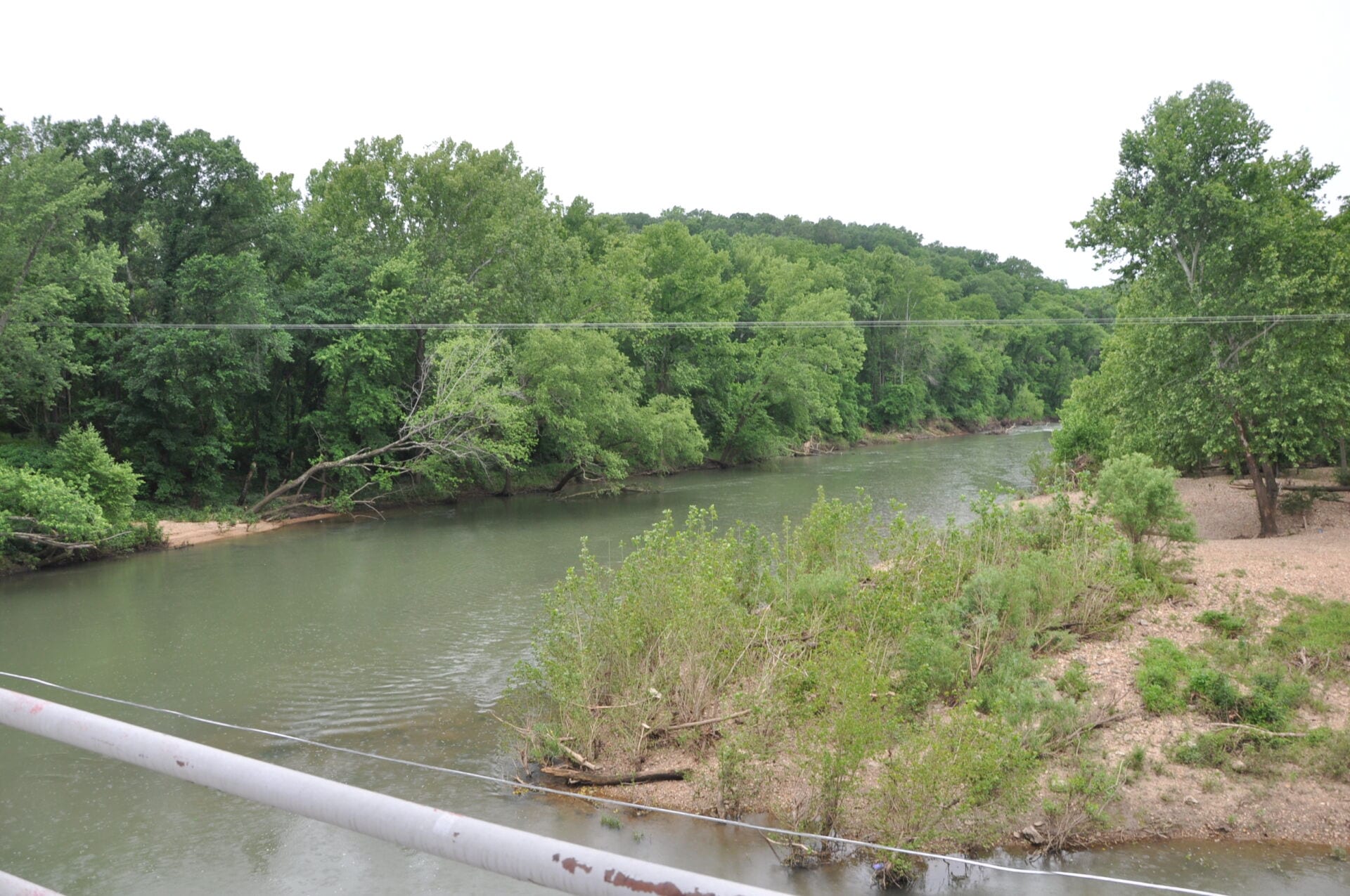 Eureka
Eureka is the first stop outside the city of St Louis. Here you'll find the old bridge crossing the Meramec River (which you can't cross) and one of the many Route 66 Visitor centres that can be found along the route. The bridge was closed in 2009 to traffic and in 2012 the planks were removed. Just by this place is the Route 66 Missouri State Park, an area of Environmental Revitalisation. If you have time on your schedule it's a nice little stop.
You move on from Eureka and although there are a number of disused hotels, buildings and signs that have seen better days. This becomes a running theme as you move along the route but some are still definitely worth stopping and taking a picture at!
Your next stop that you need to be looking for is the Meramec Caverns.
Meramec Caverns
Meramec Caverns is off the "main route" so you have to drive to it, unlike other things that you'll find driving past. Beneath the fertile rolling hills of the Meramec Valley, lies a complex of mineral formations and colour as rare and unique as they are beautiful. These jewels of nature which took thousands of years to grow, are preserved in the spectacular sights meters below the ground.
It's not possible to visit the caves alone - the tour guide takes you through the Caverns explaining the history, how they were found, how the science behind them work etc... There is a final stop at a mini theatre where you watch a very patriotic film (a bit too patriotic for us Brit's) but don't let this put you off. The caves are spectacular and well worth the walk around. It's a good old walk and the ground isn't even all the time, so if you are un easy on your feet be aware. The tour lasts about an hour and half and cost's $22. My only other tip - take jumper. Yes you might be boiling above ground but below ground it's proper chilly!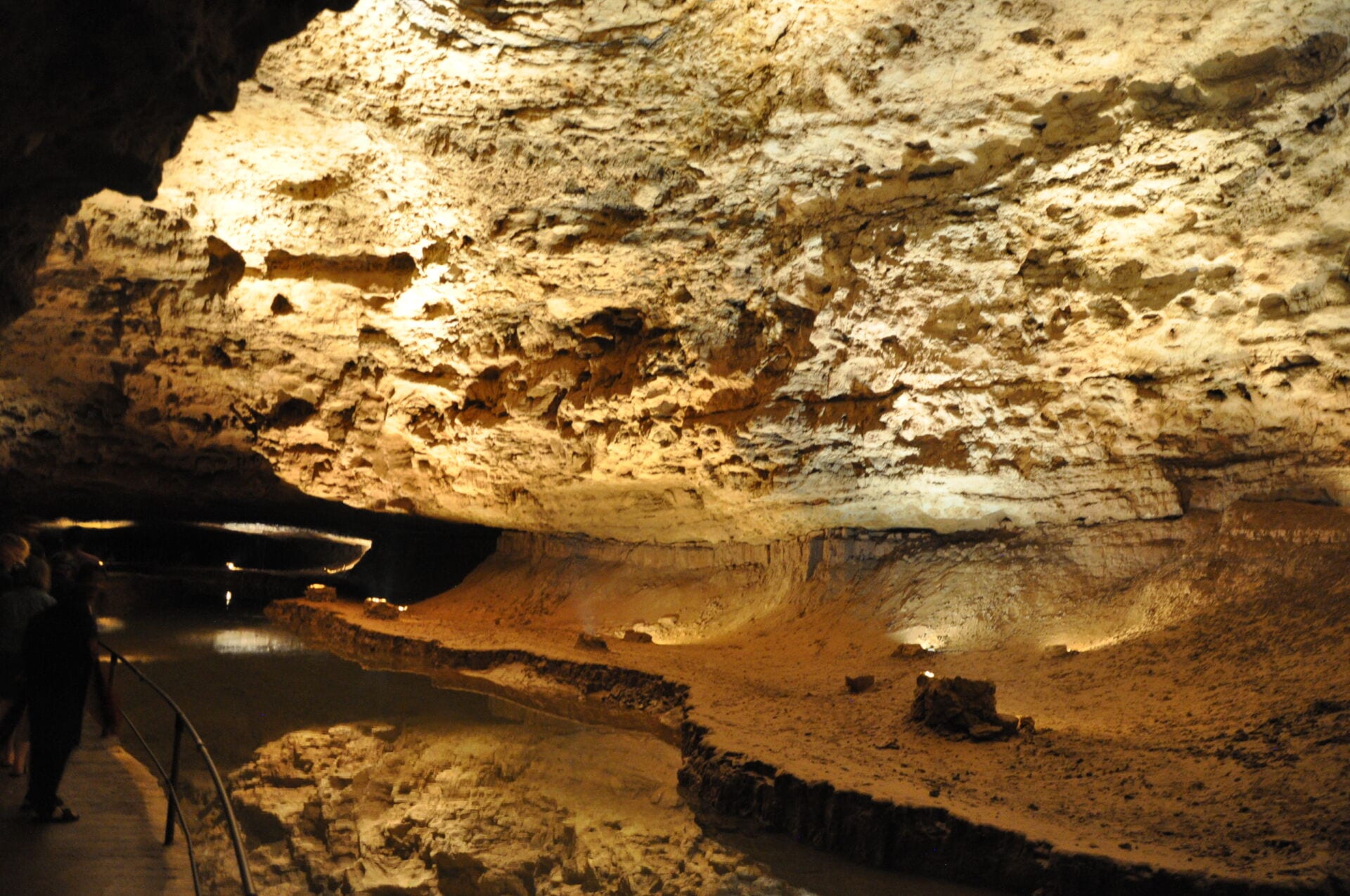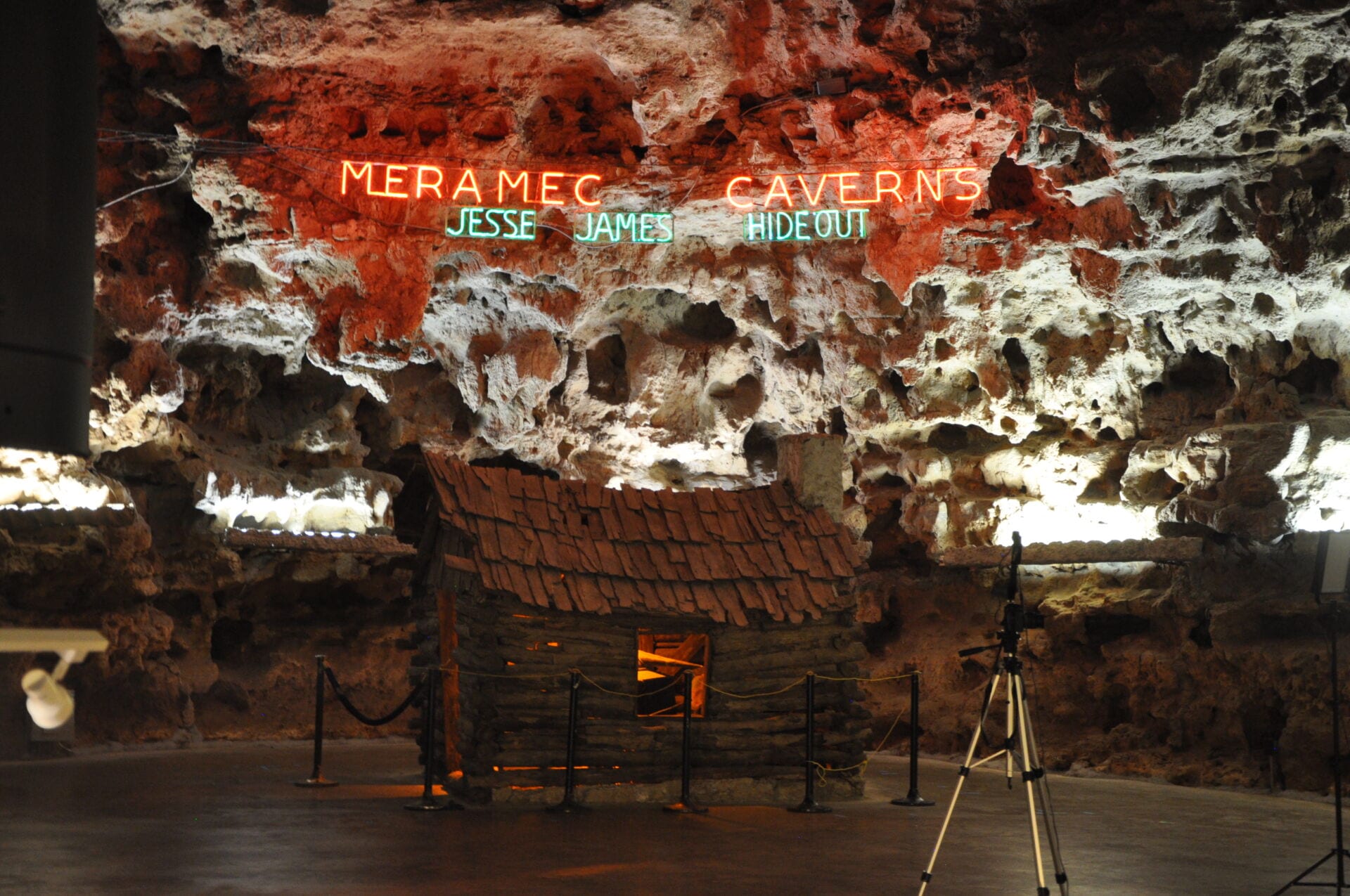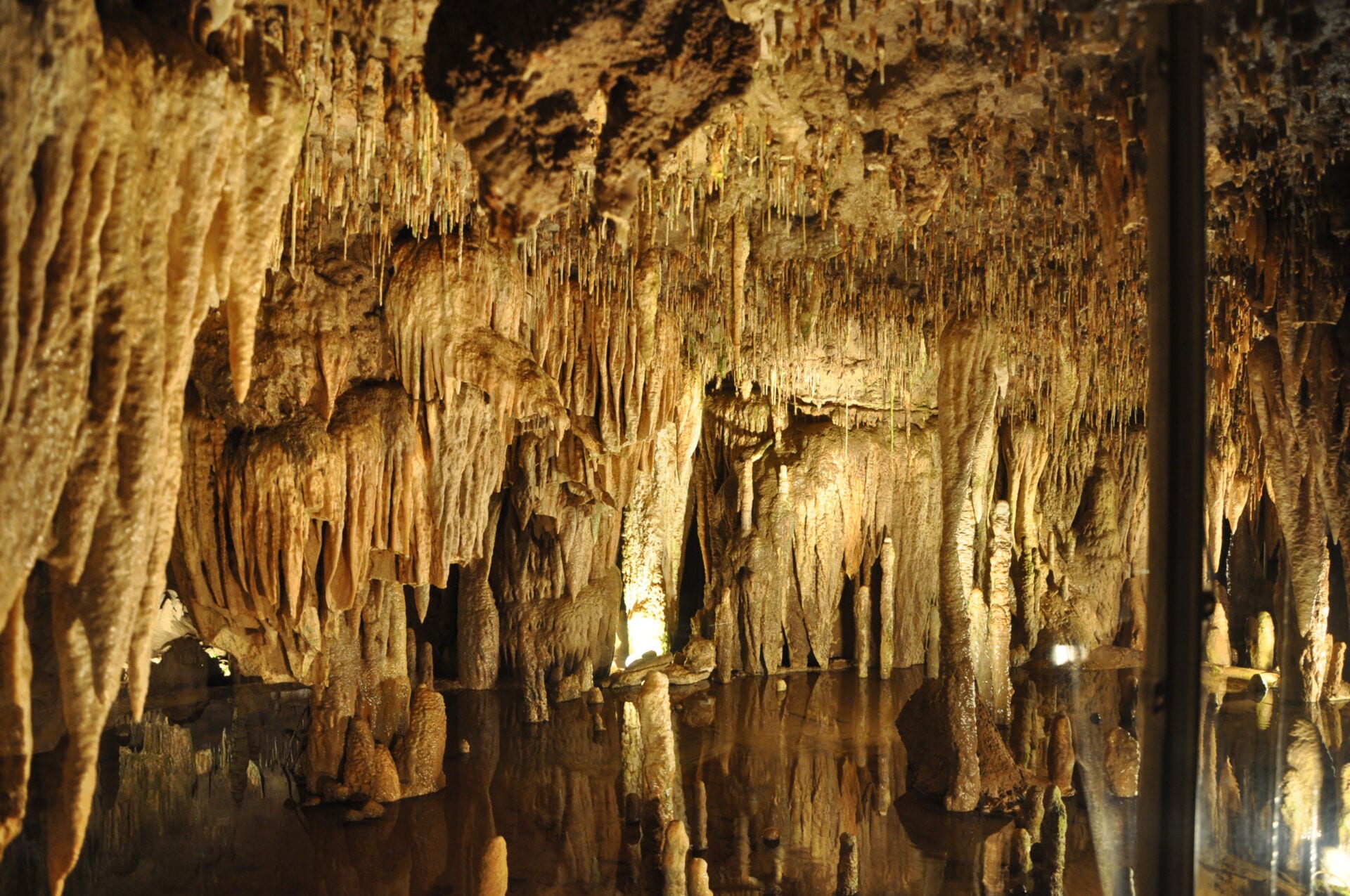 Cuba
Your next stop should be in the Cuba area. There is quite a bit to see as you drive around the area. One of the hotels (Wagon Wheel hotel) on the route (although we didn't stay ourselves as we wanted to stay at the Boots Court.) that people talk about staying at is here. It's in my must stay hotels - although if you are staying in Carthage at Boots Court you won't stay at both.
In Cuba it's well worth looking at all the murals. There are 12 in the town which were commissioned in 2007 to celebrate 150 years of the town.
Sadly just outside the town is a place that we stopped at but is now no longer around. Bob's Gasoline Alley was a fantastic collection of old memorabilia, signs and Route 66 materials. Bob sadly died 2019 and the items on the site were put up for auction. We have been lucky enough to buy a sign from the auction that took place.
Just past the old turn to Bob's is the second largest rocking chair in the world. It's only a photo op - but one that's fun to stop at!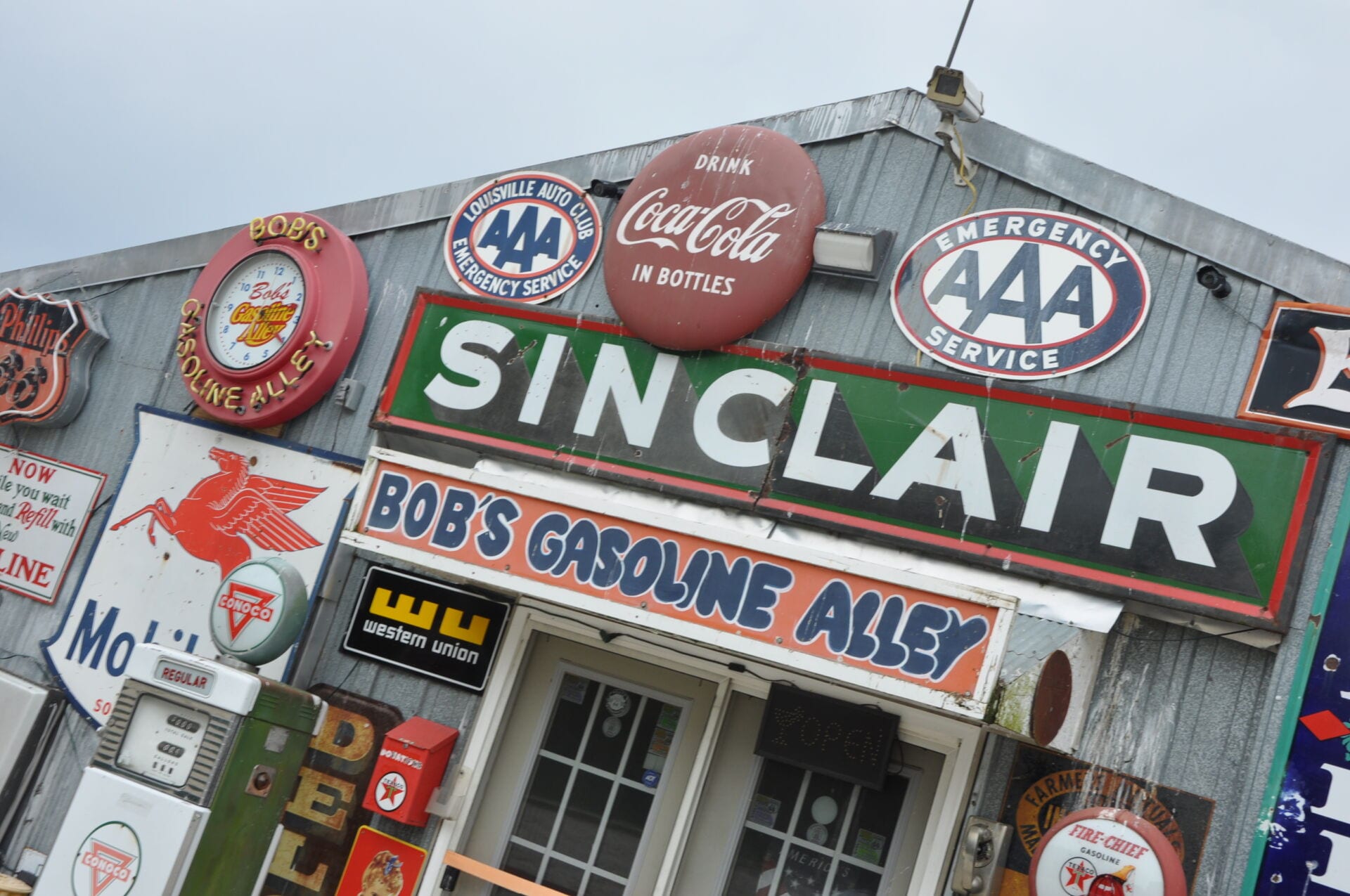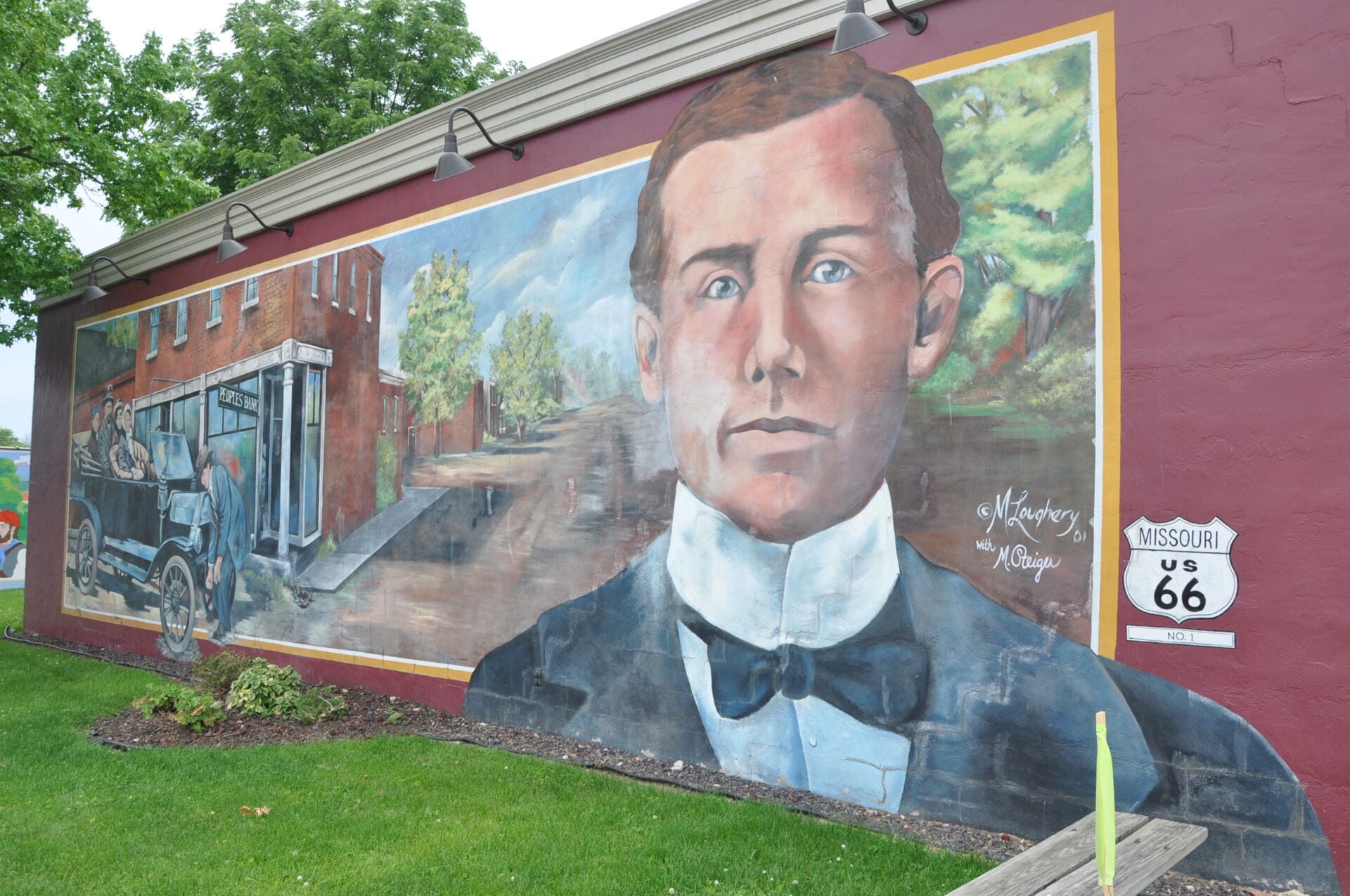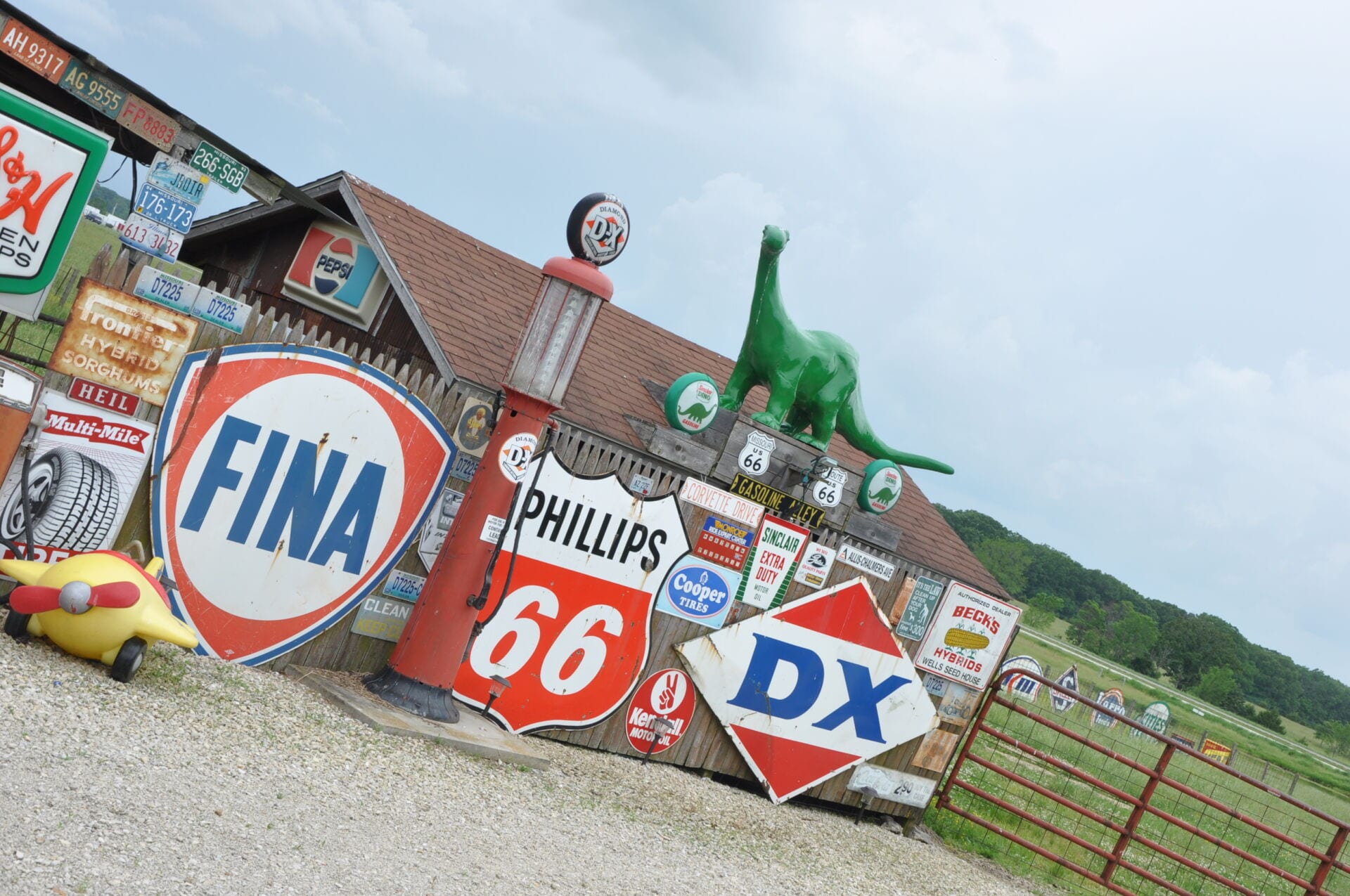 Past Cuba
Again you pass more shops, disused business, hotels as you make your way along Route 66 Missouri. The shop you should stop at is the Totem Pole Trading post. It's one of the oldest stores on the route and is owned by a lovely old couple who rely on passing trade to stay open. There is no fuel, or restaurant. It's just a shop offering lots of different gifts and memorabilia but not the type you'll see in other shops. It's been run by the same family for many years and we got a very warm welcome from Tim!
A bit further down the road you come to one of the many bridges you'll see on the route at the Devils Elbow bridge. It is listed as one of the state planning commissions seven beauty spots. Certainly one for a couple of photos.
Uranus Fudge Factory
If you are offended in anyway I advise you don't stop here. If you aren't offended one to certainly stop at is the Uranus Fudge Factory. From all sorts of inappropriate T shirts, Hoodies and clothing wear all emblasoned with different "businesses" in Uranus to the ladies who "welcome you to Uranus" as you walk through the door... They certainly maximise the name with anything and everything that they can. We bought a couple of T shirts!
I can also confirm that the fudge is very tasty as well!
Here ends the first part of Route 66 Missouri. Part 2 can be found here!