Since the Covid shut down lots of people have been looking at different types of food and how to eat healthier and also order on line. The Muscle Food company gives many different options and food types to cater for different people and tastes. One of the products on offer that I love is their Prepped Pots range. This isn't a Covid fad though for myself I've know about these Muscle Food Prepped Pots for about 18 months - and I love them!
Not only are they really tasty they are also a brilliant source of healthy food. With them being all sub 400 calories they are really helping with my daily food intake. Before I found these Muscle Food Prepped Pots I used to have sandwiches, or eat what ever we had in the cafe at work. Sometimes that could be healthy but more often than not it wasn't...
They are just ideal for busy days when you don't have time to prepare something yourself. Although I can't take them away with me if I'm staying away for long periods of times like my recent trip to Stratford Upon Avon. If kept fresh in the fridge they are 3 minutes in the microwave and if you've frozen them they are only 6 minutes of cooking time. For someone who's not a big cook it's ideal!
Ingredients
The key to these pots is in the ingredients. The pots contain combinations of Rice and Chicken at the core. These pots are high in protein whilst being low in fat, low in sugar and low in salt. Below is a typical pot
| | | |
| --- | --- | --- |
| Energy (kJ) | 431 | 1588 |
| Energy (kcal) | 102 | 376 |
| Fat | 2.4g | 8.8g |
| of which saturates | 1.0g | 3.7g |
| Carbohydrate | 10g | 38g |
| of which sugars | 0.5g | 1.8g |
| Fibre | 1.0g | 3.7g |
| Protein | 11g | 41g |
| Salt | 0.27g | 0.99g |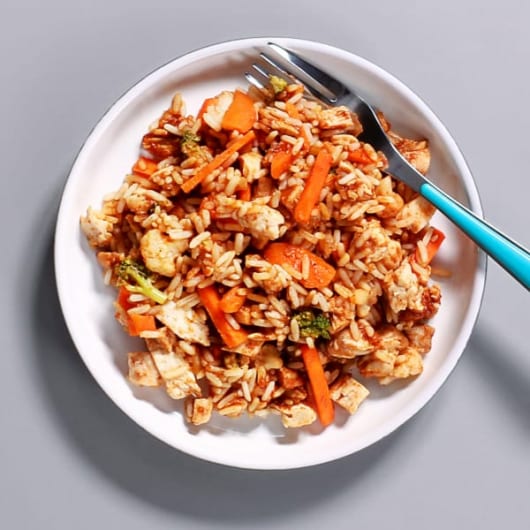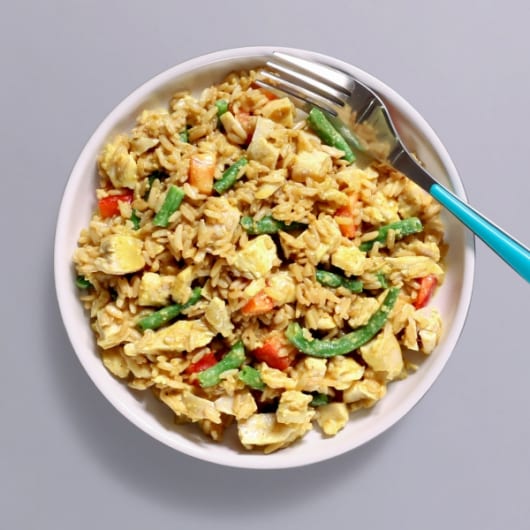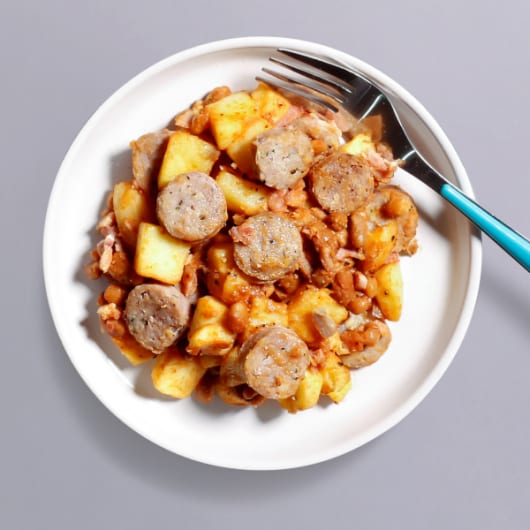 The Pots
There are about 20 or so different versions of the Muscle Food Prepped Pots. Over the period of the time since I've been ordering them I've tried almost all of them at least once. Some are definitely settling in as favourites though! The Sausage and Bean Pot is the leading favourite. It's got juicy Cumberland-style sausage and teamed it with crispy diced potatoes and a rich haricot bean sauce. It's just yummy!
Another of the firm favourites for me is the Satay Chicken & Brown Rice Pot. It's succulent chicken meets brown rice, green beans and red peppers in a satay sauce.
There are a number of the pots that are a bit spicy and that's not sadly to my taste in food as a whole but that's a personal thing rather than the pots fault.
Muscle Food Prepped Pots
If you haven't worked out I love these pots! There are so many different types of food that can be ordered on line, but these are my go to. They do a great subscription service which gives you 10 boxes for £29.99 delivered every 2 weeks. This is what I have delivered and it's great value.
If you are looking for a great addition to your food purchases and something healthy to boot then look no further! Give them all a go and let me know which are your favourites in the comments below!