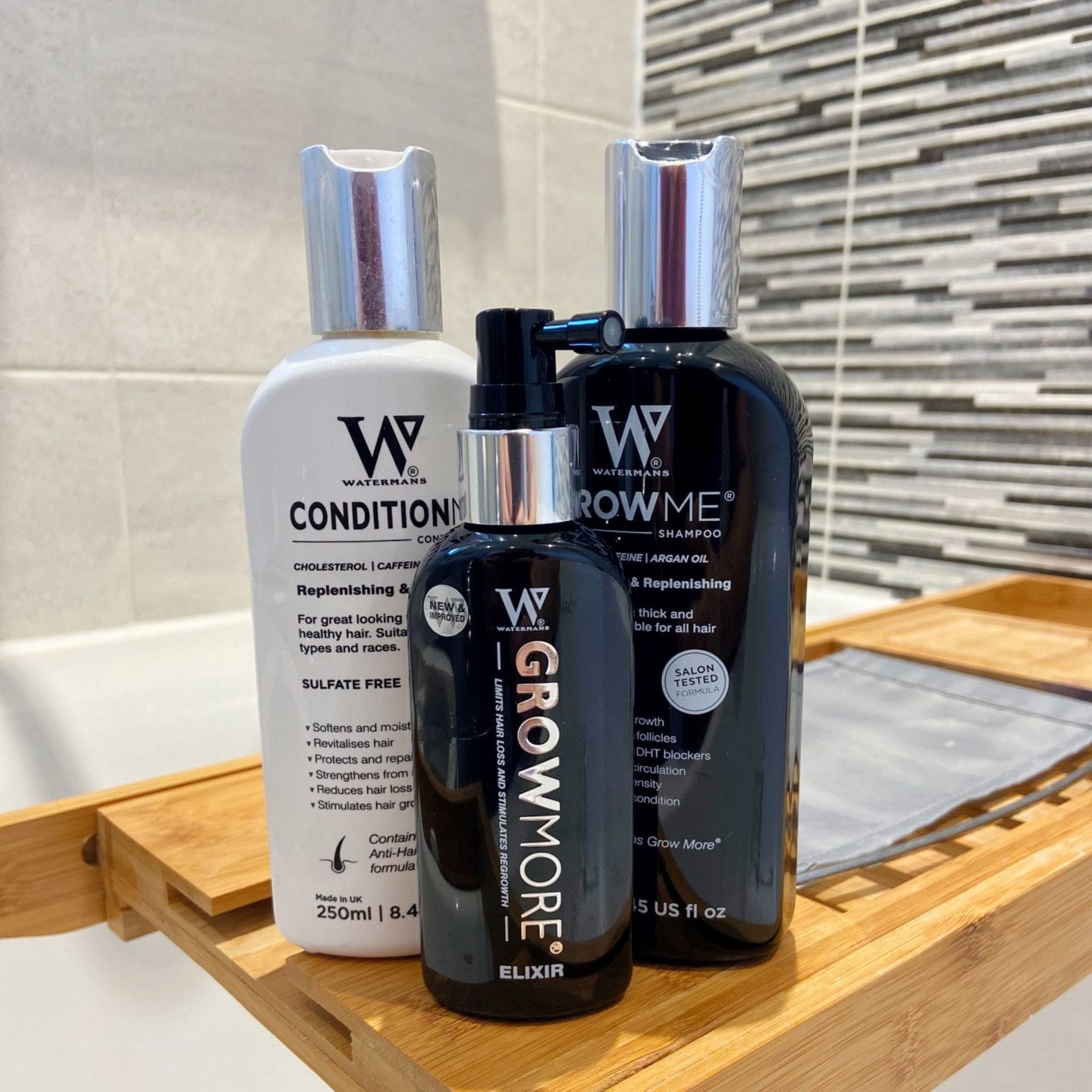 Watermans Grow Me
As I've been getting older I've been more conscious about trying to look after myself more. This comes both in the way of diet, personal trainer and fitness, and also things like my skin care with the use of Bulldog products. More recently I've now moved to using Watermans Grow Me Shampoo and Conditioner as well. In my late 30's I had started to notice that my hair had both started to thin and also recced. I really had no fuss about turning grey that didn't bother me - but I know that I didn't want to go bald! It's probably not something that I could control I thought (bar expensive surgery) - but I was determined to see what I could do what I could about it. This is where the Watermans Grow Me products came into view.
I did a bit of research around and found that although no one product offered a miracle cure to this (well a few offered me some special pill but...) the Watermans Grow Me range certainly came out on top in a lot of reviews. I also loved it that it was British made and also contained no sulphates and no palm oil - so more eco friendly. (Although if you read my dream garage post you would say that I'm not that "eco" friendly!)
Watermans History
Watermans, was founded by husband and wife team Matt and Gail Waterman in 2014. Initially operating from their home, the company has grown to become a household name in the hair and beauty industry. The have been exporting their products across the globe and supplying to Australia, South Korea, Taiwan, Slovenia, USA, Canada and Europe to name just a few.
So what have I made of the products? It should be noted I didn't take a before picture - so I've not done the after... Also everyone is going to have different results. If you go to the Watermans website reviews you'll see that people respond with different results as well as different time frames. Whilst I expect good results for 99% of people who try this it might not work as well for all.
The Shampoo
The first product that I tried was the shampoo. I started to feel a difference in my hair after about 10 days or so. It began to feel slightly thicker and also it was less noticeable that it was falling out. Whilst in the past I could run my hands through my hair and some would come out with it, this started to become less and less.
I guess the first noticeable visual difference was after about 1-2 months when my barber said to me that he thought my hair was growing back in places where he hadn't see it for a while. I was only using the shampoo at this point so thought this was really good news. It was about 3-4 months when I really started to notice how my hair looked and that it was now not showing so much of my scalp and this was great news!
Because of the success of this product I then decided that I would try the other products starting with the Grow More Elixir Hair Growth Serum.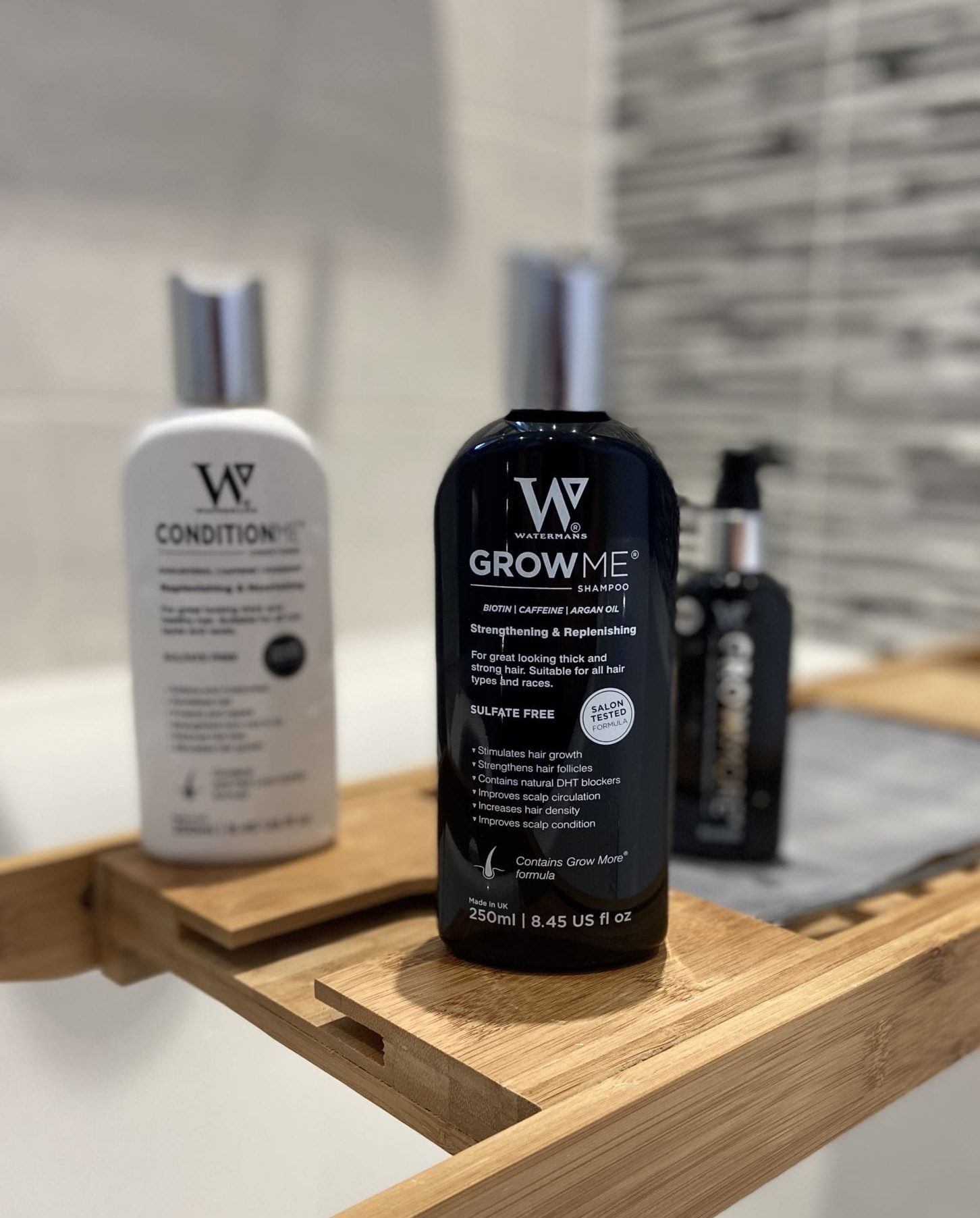 Grow More Elixir Hair Growth Serum
The Grow More Elixir Hair Growth Serum is there as a compliment to the Shampoo. It is beneficial for those struggling with dry and damaged hair follicles. It improves scalp health by feeding and supplying the dormant hair follicles eliminating most growth problems. Think what you would do with a tree? You would place nourishment to the routes and put in fertiliser. This works in exactly the same way. By attacking the base of the routes it helps stimulate the hair growth right down at the base of the issue.
I use this product both morning and evening. With the small applicator nozzle you can squeeze it directly into the area where you want the treatment and hey presto! It's not an all over hair treatment but one I use for patches.
This is for me at the front of the hair where I had noticed the most "loss". After using the serum both morning and night I started at first to notice really fine blonde hairs reappearing at first and then these slowly started to turn into darker hairs after a while. Whilst the progress for these areas has been hard to track the return of hair where I hadn't seen it for months if not years was amazing. The full results in these areas are yet to be seen as not all have become darker hairs. However I hope that this progress will continue!
The Conditioner
The final product that I use from the range is the conditioner. Before Watermans I wasn't really a conditioner type person. Honestly I don't think many guys are. But I had seen so much positivity from the results of the Serum and the Shampoo that I felt that I should add this product into the mix.
Whilst the results on the Conditioner is slightly harder to tell given the progress and the impression that the Shampoo and the Serum made it's definitely just adding to the overall "help" that my hair is getting on a weekly basis.
Overall Review of Watermans Grow Me
I love these products. I've noticed the results since starting with them, and whilst I used to use them on a couple of times a week basis they are now my everyday stable. Yes they aren't as cheap as some shampoo and conditioners but why spend £25 on a haircut to look good if your hair is just falling out all the time. Added bonus is the products smell good as well. No overly strong perfume or chemical smell at all.
If you suffer from hair loss for what ever reason give these products a go. I am sure they will work for you just as they have done for me!
You can buy them with this link here!