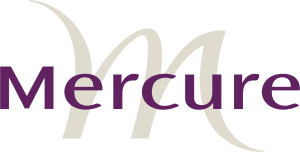 The Mercure Edinburgh Haymarket is one of the newer hotels that I've stayed in in recent weeks and months. Ideally located near the heart of the city offering easy access to, the Edinburgh International Conference Centre, the Haymarket train station and Princes Street. For evening entertainment the Kings Theatre, Traverse Theatre and the Usher Hall are also close by.
The booking that I made was quite last minute and therefore I was provided with only a twin room. The Room which was situated at the rear of the hotel was clean, smart and quiet with 2 chairs and two single beds. The beds if needed were far enough apart that you don't need to be that "friendly" with your room mate! (I did move them closer for the photo)
As you know from some of my other posts – the biggest needs for a good business hotel for me are a comfortable bed, fast wifi and good shower. The Haymarket didn't disappoint in this area. Although a single bed, it was comfortable, with a selection of hard or soft pillows. The log into the Wifi was nice and simple and at no point did I have any phone signal issues either on my O2 network. However my one complaint from a working point of view would be that, the chair used to sit at the desk was low compared to the desk height. This made the ideal sitting position impossible to achieve.
Being a new hotel the addition of sockets by the bed is a very welcome addition to any traveller when you have at least 3 devices to charge each night.
In the room was a Iron and Ironing board – another nice feature meaning no pre-meeting visits down to reception to iron that shirt that's lived in the suitcase for a few days…
The bathroom was clean and smart with a good powerful shower along with the usual selection of free toiletries.
Breakfast was the usual Mercure Hotel fare with a good selection of continental breakfast as well as full cooked breakfast should it be wanted. The breakfast's are served in a modern and airy room next door to the reception area and the quality of the food was good. It also had a proper toaster – much better than those conveyor belt ones that either under cook or burn your toast. A 24 hour room service menu of Pizza's was on offer but I din't partake – no point in the Gym membership if I did! I should also add there is a Gym in the hotel, but due to work schedule I didn't have time to visit this.
Locally you do feel that the hotel although "close" to city centre feels as though it's out on a limb. There is a Tesco Local over the road and also a very nice Zizzi as well. One benefit for staying at the hotel is showing your room card at the Zizzi allows you a discount off your bill.
A taxi to the airport is about £20.00 should you wish. Although there is the airport shuttle which runs on a regular basis for £7.50 return. (Prices as of 2016) The nearest pick up for this is about a 15 minute walk.
---
Summary
Hotel Address: 38 Gardners Crescent, Edinburgh, EH3 8DQ
Wifi: Free, and good speed
Sockets by Bed: Yes
Shower: Good powerful
Official Star Rating: 4 Stars
TS Rating: 4 Stars
TS Comment: A good solid upmarket travel hotel. Comfortable, welcoming and just what the business people need when working away from home. Just sort the chair out and it might have been 4.5 Stars.
If you liked this review why don't you read some of my other reviews here?